The Football Business Academy and Liga Portugal have entered into an agreement that will see the global leader in football business education and Portugal's top tier professional football league collaborate. 
The partnership was sealed during the 2nd Edition of the Thinking Football Summit organized by Liga Portugal, which took place from September 7th to 9th at the Super Bock Arena in Porto.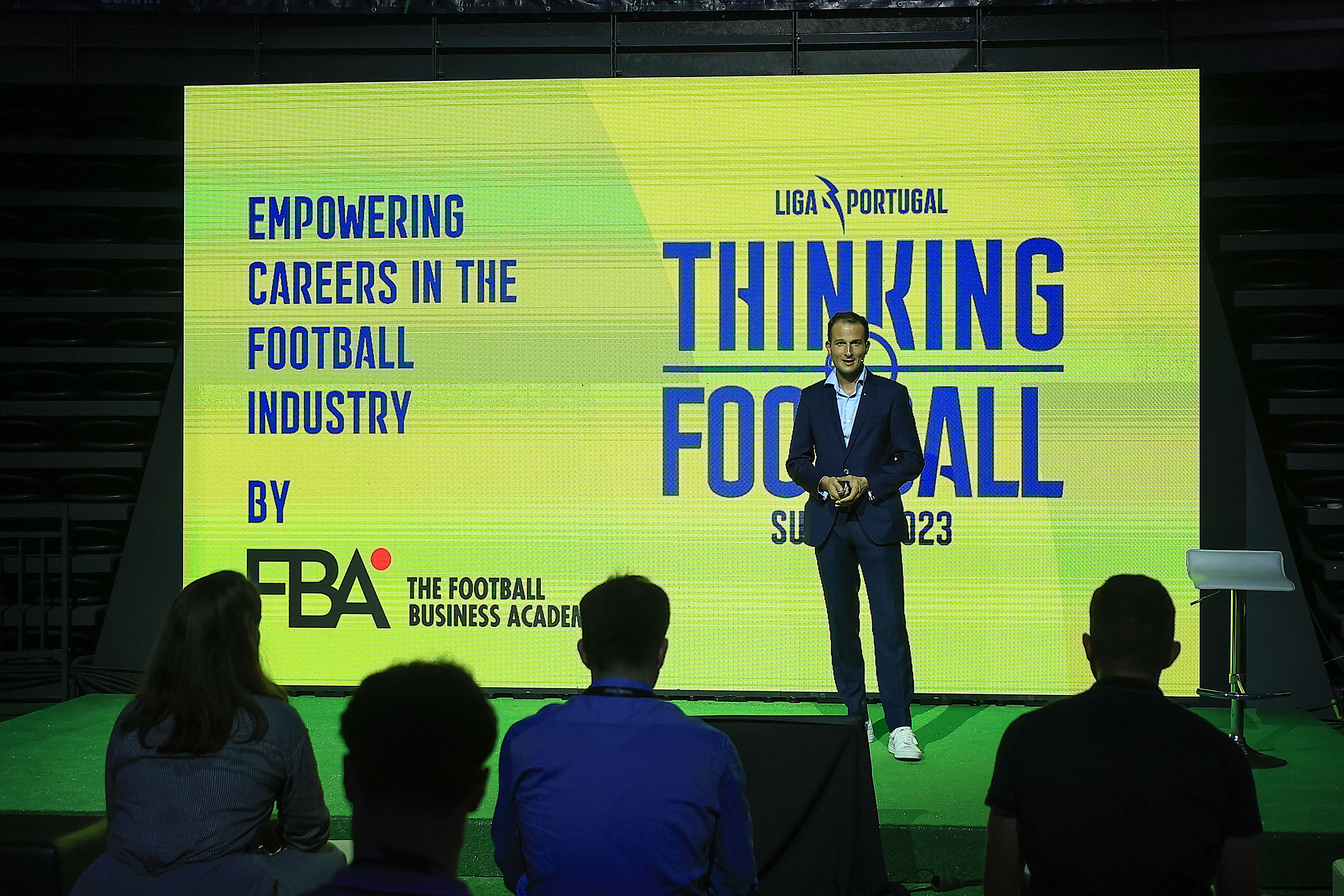 "After several success stories with previous FBA Candidates, it is a great pleasure to officially establish this partnership with Liga Portugal. Supporting the league in its growth and expansion is a natural synergy which we're looking forward to continuing building on. The future of Portuguese football is very bright, and we feel honored to play our part in it."
– Kristian Dobrev, Deputy CEO, The FBA
"The future of Portuguese football lies not only in developing talent, but also in the professionalization and training of sports professionals. The partnership between Liga Portugal and The FBA, announced at such an innovative event like the Thinking Football Summit, will be important in developing better professionals."
– Rui Caeiro, Executive Director, Liga Portugal 
Founded in 1978 and headquartered in Porto, Liga Portugal organizes and regulates three professional competitions among its 36 teams, being Liga Portugal Betclic (for sponsorship reasons) the top tier national competition, where other FBA Partners such as SL Benfica, Sporting Clube de Portugal, S.C. Braga, and Estoril Praia compete. The winner and the second-ranked team secure their place in the UEFA Champions League, while the third-ranked team enters the third qualifying round to access the competition's group stage. Within this backdrop, Liga Portugal is considered a talent hub that exports Portuguese players to different markets around the world every year.
With this mutually beneficial alliance, we aim to collaborate on strategically significant topics that will unlock valuable opportunities for both organizations. This ensures not only a comprehensive learning environment for our Master Candidates—future industry professionals—through internships and Student Business Projects, but also a range of synergies in line with the league's business plans and development strategies. As Liga Portugal envisions establishing itself as one of the most prominent leagues in Europe and embracing international best practices, contributing economic and sporting value to professional football, our partnership naturally aligns to fulfill these objectives within The FBA network. Furthermore, Liga Portugal and The FBA collaborated to promote the Thinking Football Summit (7-9 September 2023 in Porto) across The FBA Family, inviting Candidates, Alumni, Faculty and Partners alike to join like-minded professionals at Portugal's biggest football convention.
The Football Business Academy is delighted to partner with Liga Portugal to take football business education to the next level. 
ABOUT LIGA PORTUGAL
Liga Portugal is a private, non-profit association that upholds the values of Rigor, Talent, Professionalism, and Unity, in organizing and delivering three major football competitions within Portugal.
A talent platform that projects and exports some of the best performers in the sport worldwide, in which 36 professional teams take part.
Liga Portugal is governed by the provisions of these Statutes, Regulations, and other applicable legislations.
Follow Liga Portugal on Instagram, Facebook, LinkedIn and Twitter.
ABOUT THE FBA 
The Football Business Academy is a global leader in football business education whose goal is to accelerate the professionalization of the football industry and develop current and future leaders in the game. Founded in 2017 and based in Switzerland, The FBA is best known for its flagship degree – the Professional Master in Football Business – which is a 12-month program with two intakes each year.
Furthermore, various football-related stakeholders seek the services of The FBA for the creation and/or delivery of a variety of tailor-made workshops, certificates, or diplomas. Other partners of The FBA include the AFC, CONMEBOL, NWSL, Club Nacional de Football, Irish FA, Belgian FA, Saudi Pro League, Common Goal, Rangers FC, Socios.com, Mazatlán FC, YouFirst, RCD Espanyol, Samba Digital and Sportive Ways.
Follow The FBA on LinkedIn, Instagram, Twitter, and Facebook.