The Football Business Academy and Estoril Praia have entered into an agreement that will see the global leader in football business education and the Portuguese professional football club collaborate.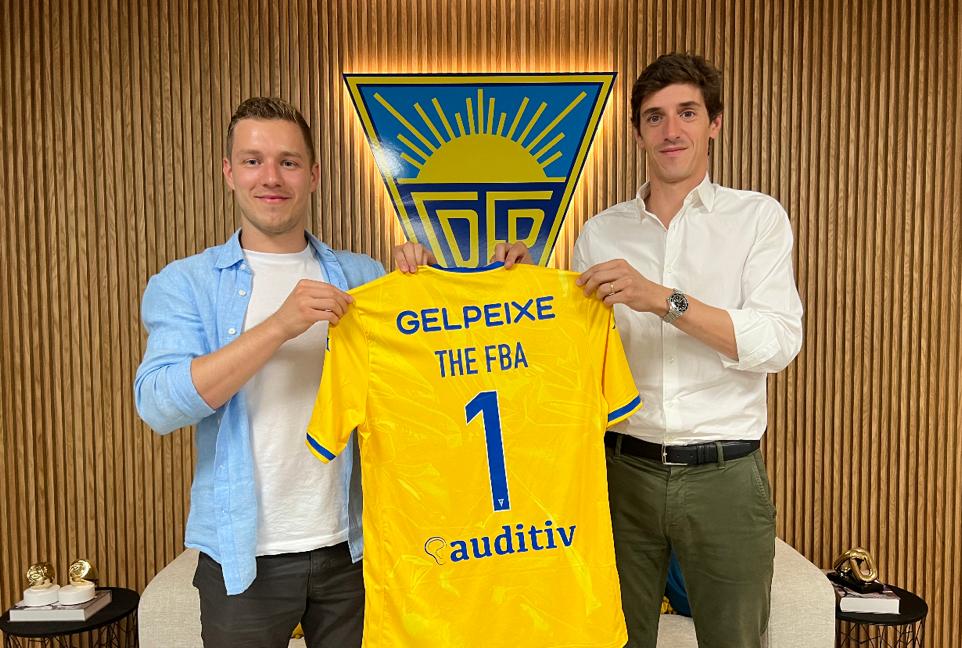 "Estoril Praia is very excited with the opportunity to partner with the FBA! It is very clear for us that the football industry has become an increasingly competitive environment that requires skilled professionals. The knowledge provided by the FBA is an important leverage for people who want to work in football and Estoril Praia is glad to contribute with hands-on experience, helping to create an integrated experience for the future football leaders of tomorrow, while benefiting from the collaboration of Candidates through internships and Student Business Projects."
– Guilherme Müller, General Manager, Estoril Praia
"Delighted to welcome Estoril Praia into our FBA Family! This collaboration will give our Candidates a chance to work on real-life consulting projects to support the club in their mission to keep growing their business operations. Due to our interactions with the club so far and fantastic people in charge of running the organization, we strongly believe that it is a great environment for FBA Candidates to be a part of, and we are excited to start this partnership."
– Marcin Chmielewski,  Head of Partnerships, The FBA 
Founded in 1939, Estoril initially played in the Campeonato de Lisboa which was a league competition where only teams from Lisbon participated. After making it to the finals of Taça de Portugal against Benfica SL  in the 1943–44 season, they reached the Primeira Division in 1945.
They hold their home matches at Estádio António Coimbra da Mota, with a seating capacity of over 8,000 and located in Estoril, Cascais, around 20 km away from Lisbon city centre. The "Canarinhos"came back to Portugal's Primeira Liga  finishing in 9th position in the last season. The club has ambitious business plans ahead, especially with the landing of new owners in 2019 – an American group with a large financial, investing and operational background in US and European sport.
With this mutually beneficial alliance we seek to collaborate on topics of strategic interest that will unlock valuable opportunities for both organizations, ensuring not just a holistic learning environment for our Master Candidates -future industry professionals- through internships and Student Business Projects; but also a variety of synergies aligned to the club's business plan and development strategies while enriching their teams with a high-quality talent pool. In addition, as the newest member of The FBA Family, Estoril will also benefit from joining our global network with more than 60 Partners from the industry.
ABOUT ESTORIL PRAIA 
Estoril Praia SAD is the professional company in charge of football of the Club Grupo Desportivo Estoril Praia, a Portuguese sports club from Estoril, Cascais, Lisbon. Founded on 17 May 1939, its football team currently plays in Primeira Liga and holds home games at the Estádio António Coimbra da Mota, with a seating capacity of 8,000. As a sports club, Estoril Praia has more than 20 different sports.
Since the club's establishment, the senior football team has won three Segunda Liga trophies, with the most recent being the 2020–21 edition.  As a result, some personnel of the club received awards in relation to their performances in the 2020–21 season, of which include Miguel Crespo, who won the Liga Sabseg Player of the Year, Dani Figueira, who won the Liga de Sabseg Goalkeeper of the Year, and André Vidigal, who won the Liga Sabseg Young Player of the Year.
In the 2021–22 edition of Liga Portugal Bwin (First League), the first year after promotion, Estoril Praia finished 9th in the table.
Follow Estoril Praia on LinkedIn, Instagram, Twitter and Facebook.
ABOUT THE FBA 
The Football Business Academy is a global leader in football business education whose goal is to accelerate the professionalization of the football industry and develop current and future leaders in the game. Founded in 2017 and based in Switzerland, The FBA is best known for its flagship degree – the Professional Master in Football Business – which is a 12-month program with two intakes each year.
Furthermore, various football-related stakeholders seek the services of The FBA for the creation and/or delivery of a variety of tailor-made workshops, certificates, or diplomas. Other partners of The FBA include NWSL, Club Nacional de Football, Irish FA, Saudi Pro League, SL Benfica, Common Goal, Socios.com, Mazatlán FC, YouFirst, RCD Espanyol, Soccerex and Sportive Ways.
Follow The FBA on LinkedIn, Instagram, Twitter, and Facebook.