"We had a great experience at Arowana Sports, we learned a great deal from Alfonso and his colleagues. We are honored to be have been part of the Arowana family (…)."
When you dream big and dedicate yourself to achieve it, the place where you are from doesn't matter, it is the destination what really matters. We are from Colombia and India and we will take you through our journey – Two nations One dream.
"What's meant to be will finds its way" that is the relation that The FBA and I had at the moment. My name is Carlos Felipe Pabon, and I used to work at a big multinational company Johnson & Johnson in the Human Resources Business Partner. I learned a lot at my job but one day I decided that this isn't where I imagined myself in several years ahead. I've been a football fan since my childhood. This motivated me to find a way to get into the football industry, and that is when I found The FBA, a perfect master degree that combines theoretical knowledge with practical experience in order to make the big step into this huge industry.
The FBA is the wonderful package for aspiring executives to learn from the best. What does anyone need when you have all-inclusive in one package? I Megha Gadag, quality analyst and an aspiring executive who is taking a step into the football industry. "When you have the ball, put it in the net" I was a quality analyst for 2 years at Aptean India, and I was looking for a different challenge. There are two things that motivated me to pursue the football industry. Firstly, it was the start of the Indian Super league (ISL) and especially Bangalore Football Club (BFC). It was one match which changed my perception from being a fan to visualizing working with BFC. And secondly, intricate details involved in preparation and execution of any football matches. As a quality analyst I have been always tested with the depth of my understanding and my analytic skills. I have applied for the master's degree at The FBA and with the skill set and past experience to learn and induce myself into the crowd of craziness.
During Module 2, it was a great pleasure being taught by former Head of International Sales at Real Madrid CF for 14 years and founder of Arowana Sports, Alfonso Roberes de Cominges. Global expansion and awareness are the most important tasks for any brand and any sports agencies. Alfonso has lectured us on how clubs help brands to achieve this dimension. We developed strong mantra to learn more about sponsorship and partnership which then made us approach The FBA Co-founder and Partnerships Director Kristian Dobrev, to provide us with an opportunity to work with Alfonso at Arowana Sports. And…. today, here we are working as Sponsorship Executives at Arowana Sports.
Arowana Sports is a premium marketing agency which is actively oriented on the international expansion of top sports properties through negotiation and activation of sponsorship agreements, friendly matches & tours and player image rights. Some of its clients and partners are LaLiga, Premier league, Real Madrid CF, Manchester United FC, FC Barcelona, PSG, Juventus, Ballon d'Or Luka Modric, Real Madrid's Lucas Vazquez and other leading sports properties.
The first week of the internship was mainly about getting to know the business and colleagues. Our journey at Arowana began with the opportunity to go with Alfonso to a commercial shooting with Lucas Vazquez for a brand named Mahou that is a regional beer company. This commercial shooting was for the fans to participate to watch the El Clasico match in a private apartment with lots of beers and friends.  The following week, it was all about understanding the core values of the business, their present and past clients, and understanding flow and structure of the various contracts. Also, apart from football, Arowana manages the image rights of Juan Velarde, a Spanish pilot who participates in Red Bull Air Race and Spanish Aerobatic Championship. We had an opportunity to work on presentation of his 2019 achievements and 2020 projects for sponsors to evaluate.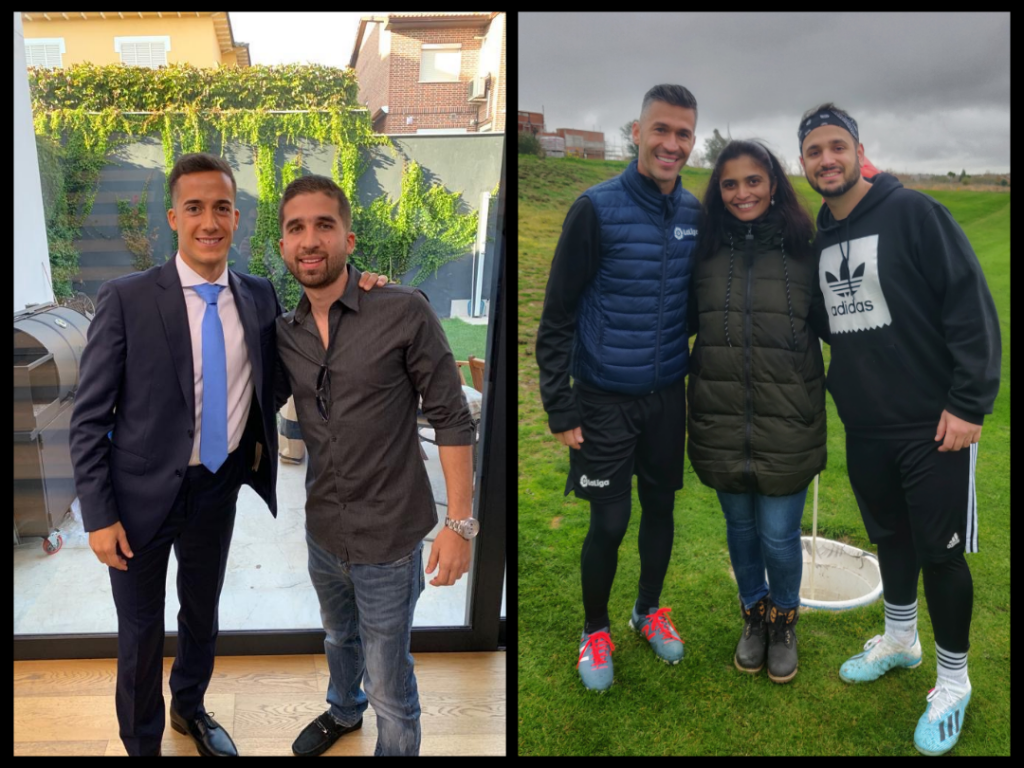 British Telecom (BT) – the UK based multinational telecommunications holding company which owns media rights of the UEFA Champions League, were happy with the Champions League event organized for them by Arowana Sports in May 2019 and BT contacted Arowana for activation. We were involved in organizing the logistics and arranging Real Madrid vs Paris Saint-Germain's Champion's League match for executives which taught us the process and planning phase which involved organizing an event. It was a proud moment for us when we met Gareth Bale one of the best attacking players while playing golf at Golf Santander. Speaking with him made us realize how humble and chivalrous stars can be. One of the best highlights of our internship was the stadium tour of the Santiago Bernabeu, home of Real Madrid. It is inspiring to work in the football industry aside the feeling you get when you are in the dressing room and in the dugout at one of the most successful clubs in the world is mind blowing. "The stars shine brighter, and we shine with it".
As part of a contract between Arowana Sports, LaLiga and ManBetX, at Arowana, we created two videos per month, in and around the stadium on LaLiga match days. As part of this, we went to Wanda Metropolitano for a match between Atletico Madrid vs Athletic Bilbao, where we interviewed the fans pre-match with some questions to get their opinions about their team and post-match to know their reactions about the match. As part of the same contract, we created one video per month with LaLiga ambassadors and youtubers, and we had an opportunity to do a video shoot of foot golf with LaLiga ambassador Luis Garcia and youtuber vituber (Victor Romero).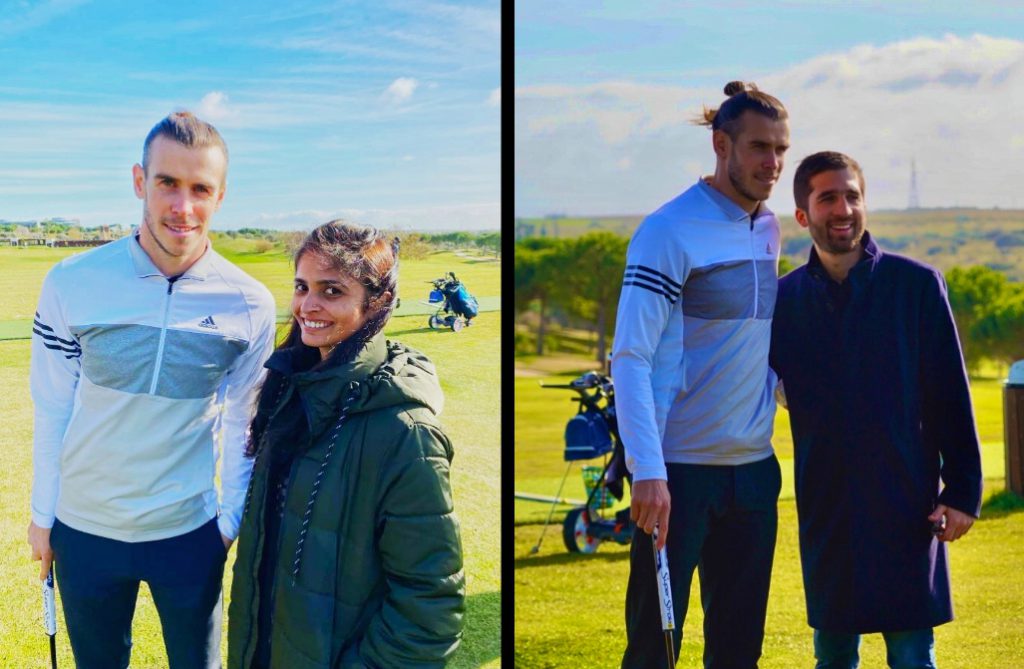 We initially thought about this internship for football sponsorship and partnership, hospitality and contract negations. However, soon after, we realized it was way more than that and that we were in for a treat with Alfonso and his team. He provided tickets for us to watch the Davis Cup (World Cup of tennis) and we watched Novak Djokovic and the Serbian national team battling against the French national team. For this, we analyzed and conducted a project on the brands who are interested in potential tennis sponsorships/partnerships, fan engagement, activations and promotions. We analyzed how different the sponsorship agreements in tennis are compared to the football industry and then presented our findings to Alfonso and it was the best assignment for us. "When you know nothing, you will learn everything".
Arowana being the bridge between clubs and brands, we were researching for brands that are suitable for main sponsor or training kit sponsor for various LaLiga clubs. In addition to that, we were benchmarking on various brands from Saudi Arabia, Italy, India, Mexico and other countries.
We had great experience at Arowana Sports, we have learnt a great deal from Alfonso and his colleagues. We are honored to be part of the Arowana family, special thanks to Borja Couce who helped us understand how he connects with the football industry. We would like to thank The Football Business Academy and Alfonso Roberes de Cominges for giving us an opportunity, our family and friends for supporting us throughout this amazing journey.
Megha Gadag and Carlos Felipe Pabon are Candidates of The FBA's Professional Master in Football Business 4th Edition. They can be contacted via LinkedIn.