I strongly believe that I will leave Riga with the best learning I could have asked for and with the certainty of a great experience, all of this is because of The FBA and the people of Virsliga.
When you grow up as a kid in a country such as Brazil, with such a rich history in football, every youngster's dream is to become a professional football player and with me it was no different.
With my football superstar career not taking off by the age of fourteen, I decided to stop playing serious youth level football and focus on school only. During my senior year of high school, I had the great opportunity to go to Colorado, USA for a one-year exchange student program and this experience changed my life. While in Colorado, I started to learn more about college degrees and discovered the chance of studying sports in the United States, something that in Brazil back in 2011 was inexistent. I am glad to say that since my early seventeen's I already knew what I wanted to do for a living, which was working with football. Back in high school for example, people would actually pick on me because the only thing I wanted to talk about was football so that explains a lot about why I chose to pursue a sports industry college degree. Since I had skills to play the game, I took the opportunity to become a Student-Athlete in Delaware and finally started to pursue my sporting degree alongside playing "soccer" for the university.
My time in Delaware gave me so much experience and maybe because of that, I am at The FBA now.
During my time there I had several internships related to sports, including as the university's Athletics Department Intern and Philadelphia Union's Team and Event Operations Intern. But one particular moment was special to me: before I interned with the Philadelphia Union, I had another offer from a youth football recreation company, and I had no idea what to do because the Union job was not certain. While walking down to the field for practice, the university's women's coach approached me asking what I was going to do during the summer, and I explained him the situation.
I told him that I had to choose between risking it all with the Union or taking the job that was already confirmed with the youth football recreation program. He told me something that actually directed my life towards where I am now, he said: "Gigi, you have to know where you want to work, professional level or not. If it's professional level, then you need to start as close to that as possible."
After joining The FBA in September of 2018, I was certain that I had chosen the right path to follow my dreams of working in the football industry. The reason I chose The FBA in the first place was mainly their internship module and thanks to them I had the opportunity to go to Latvia to work together with Virsliga (Latvian Premier League).
My internship has been amazing and full of knowledge. Sometimes people think that you can't learn about football in countries that are not really well known for that sport, but I can tell them that it's a wrong way of thinking. Since my beginning here, I have been immersed in the whole process of running a football league; from Marketing and Social Media to Media Rights and Budgeting. In fact, in the beginning of my internship, I had already received a project regarding Latvian football clubs' development where we met with a representative of ECA (European Club Association) to try to find solutions for the clubs to become more professionalized. Apart from helping the clubs to have organized management structures and professionalism, the main goal is to enhance the league's value through making the clubs also more valuable.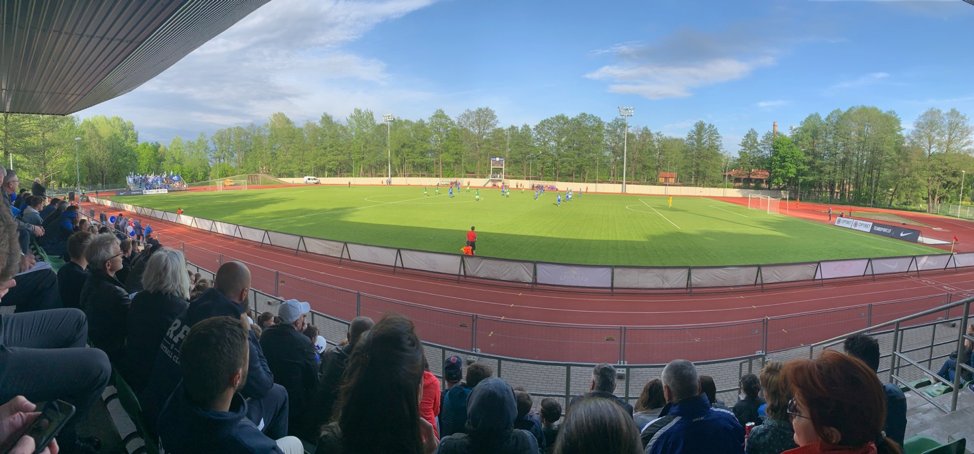 Besides the great opportunity of seeing how a football league works, I had the chance to meet with various professionals of football around Riga, Latvia's capital. Working inside the league gave me the opportunity to develop connections with staff from clubs and the football federation, thereby expanding my experience beyond only Virsliga. Because of the connections I made, I decided to create a podcast on social media where I conduct interviews with various professionals of football in the Baltic countries and learn from what they have to say about football in their areas of expertise. I think knowledge can be found anywhere and I had a great opportunity to learn from those people. I strongly believe that we can learn from exchanging experiences and this was the goal towards creating the best internship experience I could.
My time here at Virsliga and my boss Maksims Krivunecs were amazing. I was able to fully emerge myself into the "backstage" of football, network and get to know a country like Latvia which many people would be surprised to know how extraordinary it actually is.
I strongly believe that I will leave Riga with the best learning I could have asked for and with the certainty of a great experience, all of this is because of The FBA and the people of Virsliga. Thank you.
Gustavo Azevedo is a Candidate of The FBA's Professional Master in Football Business 3rd Edition. He can be contacted via LinkedIn.