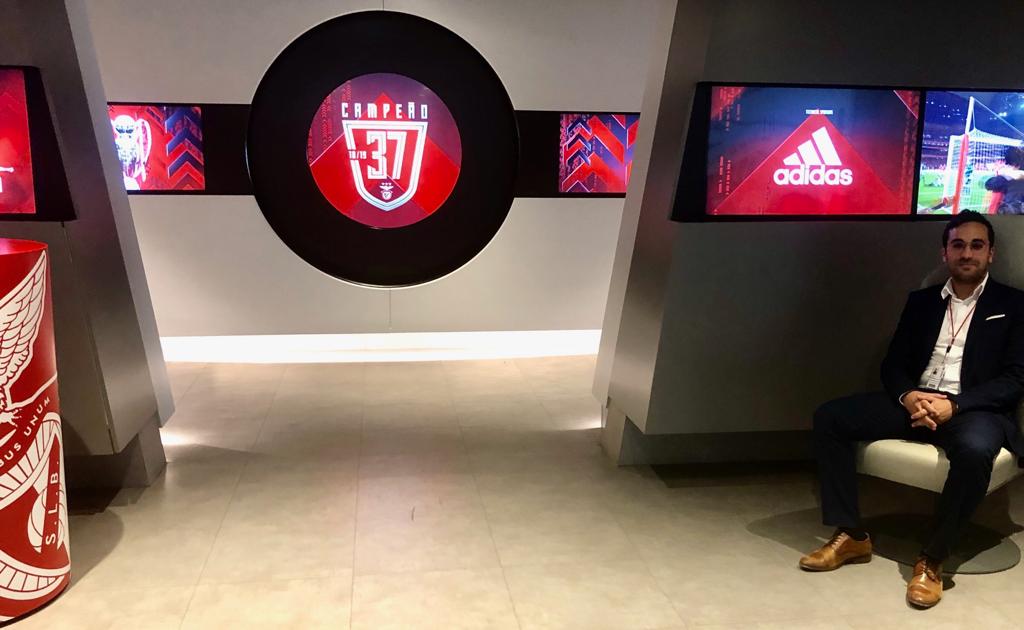 #MyInternshipAt…Micael Da Costa takes us to Sport Lisboa e Benfica
#reconquista
As most of you reading this article, I dreamed about becoming a professional football player when I was a kid. Early on, I realized it would only be a dream… However, I have always kept a connection with this sport, by being a player and a fan my entire life but also by creating a futsal team in my Geneva-based university or being part of the university's football club during my years abroad. From a professional perspective, my attachment with the sport remained as well while I worked for Berney Associes (a Swiss accounting firm) and Facebook. Part of my job was, respectively, performing administrative tasks for a Swiss Football club and supporting Football Federations during the 2018 FIFA World Cup.
Through my career experiences and studies, I had the chance to live in countries such as Switzerland, United States, Portugal, Mexico and Australia. Football has always been the best way for me to connect with people living in these countries regardless of their age, education, religion or social class; it allowed me to instantly build friendships.
With my USA visa ending in 2018, I wanted to come back to Europe and join the industry that impassions me the most: the Football Industry. I applied for a few roles in different organizations, though without success. I did not get an interview. Something was missing to my profile, so I started to look for the right path to get into the industry. I analyzed several Football Business programs, and The FBA was standing out from the crowd. Indeed, I was looking for a program offering practical knowledge from teachers with field experience but more importantly with work experience and of course, good contacts. Furthermore, I had the opportunity of working while studying, during the first two modules, what was essential for me to finance the master.
When Kristian Dobrev, Partnerships Director at The FBA, told me I would have an interview with Benfica, I was really excited. Mainly because I would finally have the opportunity to step into the Football industry but also because I am a fan of Benfica. When I was confirmed as an intern, I contacted the two FBA Alumni, Divij Luthra and Arianna Criscione, who previously did their internship at the club. At that time, Arianna was in my hometown and she kindly accepted to meet me. She gave me valuable information such as accommodation, dress code within the club or friendly people she worked with. This helped me to quickly integrate myself in the city and in the club.
During my first day of internship, I had the chance to be welcomed by José Simão, Merchandising and Licensing Director. Since the very beginning I was immersed in the action. Few minutes after arriving, José Simão invited me to the Merchandising ́s weekly meeting. Here I was, within the commercial department office of Benfica, with a direct view on the stadium which I could not avoid looking at.
The next days I met many people working in various departments (such as Merchandising, Marketing, Branding, Licensing, Business Development, Partnerships, Innovation, Events, Catering, Sponsorships, Sales, Campaigns, Accreditation, etc.) which allowed me to get an overview of their daily activities and, sometimes, the chance to assist them with specific tasks. It was a great way to have a global picture of the different commercial activities happening within a top European club.
Throughout my internship I had the opportunity to attend meetings with our Merchandising Director, Licensing Managers and some companies interested in collaborating with the club and participated to the weekly e-commerce meetings with other employees and the Marketing Director. I held meetings with potential licensees or potential partners for the innovation department, evaluated applications and determined their utility for the club and identified new business opportunities in Mexico. Furthermore, I assisted our Campaign Manager with several tasks such as benchmarking European clubs, gathered and analyzed data for the sponsorship team and supported the events team with the organization of the champions' celebration at the Marquês de Pombal which is something I will remember forever.
Not all was a bed of roses, there were days with less work or meetings to attend. To overcome these challenges, I was constantly offering my help to different managers within the department. Each time I had the opportunity to be part of a project, I was giving my best in order to be recalled for another one.
Overall, it has been a great experience with awesome memories, and I would like to thank The FBA and Sport Lisboa e Benfica for allowing me to be part of this amazing #reconquista!
Micael Da Costa is a Candidate of The FBA's Professional Master in Football Business 3rd Edition. He can be contacted via LinkedIn.