Soccerex week – the first stepping stone, right in the heart of football business industry
Born in India, where it's often quoted "If Cricket is Religion, Sachin is God", Football always came first for me. Playing football since 3rd grade, I believe it has been passed on to me from my father, who served in the India Army and where, occasionally, he used to play as a goalkeeper for his battalion. Growing up, I dreamt of playing football professionally but choosing the conventional and safer career route, I ended up as an Industrial Engineer and started working for a multinational manufacturing company. Two years in, as I started to miss out on football due to my professional priorities, it dawned upon me that neither is this place where I see myself in the future nor do I want to opt for a traditional MBA program. After rigorous research on Sport Management programs, especially centered around football, I finally joined The Football Business Academy in March 2019.
A year ago, I was sitting at my office desk confirming purchase requisitions and designing shipping containers and now, I am writing my final assignments for the first module of The Professional Masters in Football Business at The Football Business Academy. Though I couldn't play football professionally any more, the dream of making a career in the football industry is still alive thanks to The FBA. The experience of sharing your knowledge with and learning from 14 people from 5 different continents throughout these three months has been absolutely remarkable. Not only did we cover the Global History and Political Economy of Football, but we also had amazing sessions crunching numbers in Football Finance, studying regulations in Football Law and discussing dilemmas in Ethics and Professionalism. And what would be a more fitting end to a perfect module than getting an opportunity to travel to Haikou to attend Soccerex China to experience football business right in its heart.
"I knew the whole week would be spectacular"
In China, Football's development and ambitious goal of becoming a superpower by 2030 comes straight from the President Xi Jinping. Therefore, attending Soccerex China was always going to be exciting. Personally, I have been looking forward to Soccerex week since day one for many reasons. It would be my first international flight and I would finally meet my colleagues from all over the world in flesh and blood, who share the same love and passion for the game. More importantly, Soccerex would present us with opportunities to network, connect and learn from the top leaders in the football industry, thus broadening our horizons and providing us different perspectives on how we consume football.
Although our Soccerex week officially kicked off on May 20th , when everyone was supposed to check in at Mission Hills Haikou, The Official HQ Hotel for Soccerex China, I was able to catch up with Dorian (Co-Founder and CEO) and Boris (Co-Founder and Operations Manager) at Haikou airport on the night of May 19th, who were patiently waiting for me because FAMILY FIRST ! I was already moved by generosity and care shown by Dorian and Boris and I knew the whole week would be spectacular. The first day was meant for relaxing and recovering from some incredibly long flights, getting to know each other while enjoying snacks from our native places. While some of us were suffering from Jet Lag, others were up and running exploring the beautiful Mission Hills resort.
The fun began on the following day when we gathered around for breakfast and met Kristian, Co-Founder and Partnerships Director at the hotel restaurant. We had a good time enjoying different cuisines, sharing stories and bantering each other as if we had known each other for a long time. The power of football! Since we had some free time before our official session, we quickly finished the last and disappointing episode of Game of Thrones before heading out for our first FBA workshop with Barca Academy Pro. As we made it to the conference room, we were all welcomed with a personalized FBA kit containing hand written postcard, some Swiss chocolates and our business cards. Talk about a touch of class and elegance. The session started with the presentation by Pere Bosquet, Head Coach of Barca Academy Haikou in which he explained the mission, values and objectives of their impressive project to help with youth development, training, and coaching and to support the growth of the beautiful game in China. It was followed by another important workshop with Kristian Dobrev, who discussed the importance of soft skills and shared important tips and insights required for networking efficiently. After wrapping up the workshops and getting ourselves enough rest, all of us headed out for the group dinner organized by the FBA where we enjoyed the rest of the evening together.
The next day was action packed, starting with an interesting and motivational workshop by Daniel Wood, our Professor on Entrepreneurship and Innovation, who taught us how to convert failure into asset. Additionally, he also helped us with networking tips which are essential in day to day life and threw at us some interesting challenges to accomplish by the end of the Soccerex week. Francesco Gizzi, The FBA's 2nd Edition Alumnus who did his internship with Soccerex and is now working with Soccerex, was also invited to the workshop to share his FBA journey as well as previous valuable Soccerex experience with all of us. This was fundamental for all the anxious candidates and all the cues shared by Francesco personally encouraged me to approach the event with confidence. Next in line was a guest lecture organized by The FBA with Romuald Nguyen, Director of the French Football Federation (FFF) in China. The first half of the lecture focused on understanding the culture and essentials to build relationships and do business in China. The second half concentrated on international relations of the French Football Federation as well as their project in China, which they built from scratch, to push China's footballing dream forward. Football being a national priority and China being the leading economic power, Prof. Romuald Nguyen explained FFF's objective to install a single gateway facilitating exchanges between France and China, and vice versa, thus promoting French football in China and developing local landscape through French expertise. After an intense all-day affair loaded in knowledge, motivation and international developments, some of the candidates enjoyed dinner by poolside while other went to bed early for the two big days ahead.
For the next two days i.e. May 23rd and 24th, Soccerex China 2019 was underway in all its glory in Mission Hills movie town. The conference halls and exhibits were organized in perfect symmetry, spread over unique blue and pink exhibition floor. We were standing inside the Mecca of Football Business Industry with over 1000 delegates and stakeholders attending over these two days. For someone who hadn't been to such an event previously, it was an experience of a lifetime. We had opportunities to attend a whole lot of business panels headed by the likes of Corne Groenedijk – Head of International Academies AFC Ajax, Mahajan Vasudevan Nair – Head of Club Licensing Asian Football Confederation, Carlos Casal – Sports Projects Development La Liga, Patrick Stueber – Head of China Office Bundesliga, Romuald Nguyen – Director of the French Football Federation in China, Scott Munn – CEO, City Football Group China, Dr. Erkut Sogut – Mesut Ozil's Agent, Gido Vader – International Relations Feyenoord Rotterdam, network with the global football industry and learn from the senior executives and leaders to remain on top of our game in this challenging yet exciting industry. The event was also graced by the presence of Juliano Belletti – Ambassador FC Barcelona and Dario Leonardo Conca – Former Argentine International and Guangzhou Evergrande player, who presented their views on modern football, impact of social media, expansion of tournaments and possibilities of new competitions. Not only did we gain immense knowledge on governance, grassroot development, digital landscape, fan engagement but also, we were exposed to a plethora of products and business revolving around football industry – radio communications, virtual reality, turf protection and sports nutrition to name a few. We drew curtains on the first day of Soccerex with Social evening and a wonderful museum experience at Barca Hub in Mission Hills where we could relive the history as well as the journey of Football Club Barcelona right from its inception. The final evening of the week i.e. Friday was meant to be the last group dinner and all of The FBA staff along with the Candidates made it to a Japanese restaurant.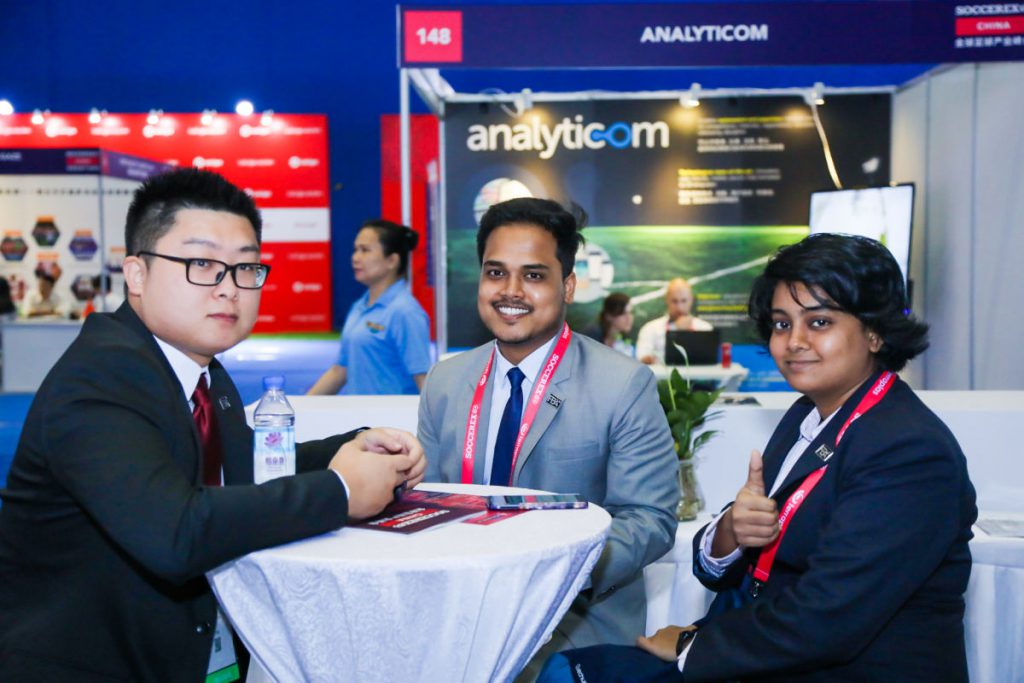 The whole Soccerex week was a marvelous and enriching experience full of networking, knowledge and new friendships. The last day was a bag of mixed emotions as we bid goodbyes to each other knowing that it will take another six months for all of us to have such a great time together. The football industry is huge on its own but at the same time it's a closed one and an experience as beneficial as Soccerex serves as the first stepping stone in our careers. Such phenomenal conferences will unquestionably aid Candidates and potential leaders to go the long way in the industry and make a successful career for themselves. I would like to thank The FBA and Soccerex for making it possible for us to witness and experience the actual football industry up close which is miles off from what we consume through TV screens or being fans. A worthwhile experience to cherish for the whole life!
Ronit Kumar Samal is a Candidate of The FBA's Professional Master in Football Business 4th Edition, expected to graduate in March 2020. He can be contacted via LinkedIn.