My Internship at Mazatlán F.C.
One of the key reasons I chose to study a Professional Master with The Football Business Academy was to take advantage of the guaranteed internship offered in Module 3 of the course. I had already completed an undergraduate degree in football business and was beginning an MSc program in Sports Management, but I felt The FBA offered me a unique opportunity that would provide me with vital industry experience to better prepare me for a future career in football. This is crucially important for one's employment prospects due to the infamous difficulty of gaining work experience in this sector.
My core aims and desires from the internship experience were to practically apply the academically learned skills I had acquired in the years prior and to develop a better understanding of real-life football operations. The latter was particularly important as one of my professional aspirations is to work and contribute to the development of football clubs in various geographic markets.
Both these professional desires as well as more personal preferences such as wanting to gain experience in a Spanish-speaking country to improve my language skills were taken into account during the internship facilitation phase with The FBA team. The work carried out by Kristian Dobrev, Lucía Estevez & Marcin Chmielewski allowed all of my aims to be met. All three consistently kept me in the loop throughout this process through in-depth video calls and regular text communications. This meant they could create a detailed profile of me, including my strengths and weaknesses, to effectively identify a partner organisation with which I could align.
This organisation was Mazatlán F.C., a recently established football team competing in Liga MX, Mexico. I was put in contact with Luis Fer Espejo, the club's Head of Sports Intelligence, who went on to explain the unique role on offer. I was thoroughly demonstrated the needs of the team and how I would be able to contribute to both the department and wider club's development. It was the perfect opportunity for me and I was very quickly convinced. What made this offer even more appealing was that I would be able to work alongside two of my fellow cohort, André Quieros and Bradley Moore.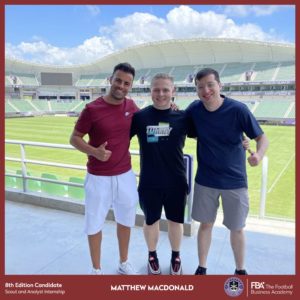 Due to the speed of internship facilitation, I was able to fly to Mexico ahead of schedule and begin my experience earlier than expected. This was an extra bonus as it gave me time to learn about and settle into the city sooner, making the most of my time in Mazatlán. I was given a lot of help by The FBA and Mazatlán FC staff to aid my acclimatising process. I found an incredible city full of life; many friendly people, beautiful sites to see and a plethora of social activities.
However, what I enjoyed the most is the range of tasks I was able to complete and aid with within the club. Whilst my role was primarily as a first team scout and analyst, I also worked on projects regarding the club's women team and academy. Furthermore, I took advantage of my Media & Communications module assignment and wrote a detailed report on the relevant operations of Mazatlán FC. This has since been provided to senior management staff within the club and led to a number of suggestions being acted upon. It is incredibly rewarding to be both so close to the on-pitch footballing activities and be able to see the immediate effect of my work. I must praise everyone at Mazatlán FC for welcoming me in such a way and enabling me to gain valuable experience.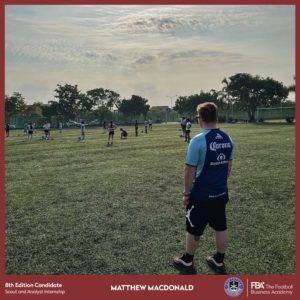 Finally, it has been amazing to be able to visit various stadia around Mexico both for Mazatlán FC away games and also simply to enjoy the Liga MX experience in different areas. This has been eye-opening in terms of being able to compare the difference in matchday facilities and operations between our club and our rivals. Again, I must thank those within the club for being so helpful in organising these trips and experiences.
I will certainly never forget my time in Mazatlán for a plethora of reasons. However, the experience and knowledge I have gained has truly enhanced my employment prospects and general perspective of the football industry. I cannot thank The FBA team enough for creating a perfect internship experience that has exceeded all of my expectations.
Matthew is a Candidate of The FBA's Professional Master in Football Business 8th Edition. He can be contacted via LinkedIn.