"Fast forward 1.5 years and I'm working full-time for LASK, my hometown club in Austria that I supported throughout my life"
Before I stumbled across the FBA website on the internet, I didn't really know what to do with my career. I was working in a big financial services firm, but I soon realized that I wanted to pursue a different path. When I was thinking about my next career move, the idea that stuck with me was always to do something with football, the sport that I'm passionate about since my early childhood. The sport that I was playing, living and breathing since I was a little kid. When I found The FBA's Master program on the internet I immediately felt that this is what I want to do in my life and that this could be the ideal spring board into the football industry, an industry that I've always admired but never really knew how to become part of it in a meaningful way.
Fast forward 1.5 years and I'm working full-time for LASK, my hometown club in Austria that I supported throughout my life. At first, I only thought of it as a student job while doing my Master's at The FBA but it quickly developed into something a little bit more 'serious'. In my case the fact that the pandemic made travelling next to impossible turned out to be a stroke of luck. Since my internship as well as module 4 got postponed I decided to stay at LASK and started to work full-time until the travel ban would be lifted and I could start an internship abroad. Little did I know that the big opportunity was right under my nose. A few months ago, I was offered the position of UEFA Main Contact for LASK which I accepted without hesitation. My job description includes first and foremost the administration of all UEFA club competitions which in the case of LASK is the UEFA Europa League. I'm responsible for the matchday operations for our international matches, both home and away, as well as regular communication with UEFA HQ, the venue team and the opponent team.
This obviously implies that I get to travel with the team to all our international away matches and I could not have chosen a better time than when I assumed this position. My first project was the organization of our away trip in the round of 16 of the 2019-20 Europa League season against Manchester United, meaning that my first assignment led me directly to Old Trafford. Even though the trip brought with it an immense workload in order to comply with all the Covid-specific regulations, and the match also had to be played behind closed doors, it was still an incredible experience and one I will never forget.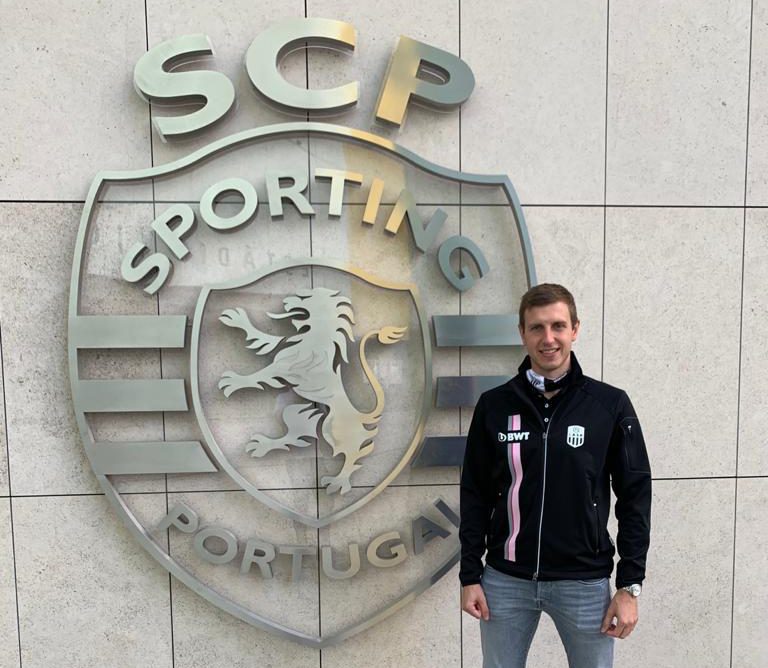 I thought that it could not get any better, but I was wrong. Just a week ago we were in Lisbon to play Sporting in the Europa League playoffs and it was even better than Manchester because of the significance of the match. While we had already lost the first leg 0:5 to United, meaning that we had no chance whatsoever of progressing, the match in Lisbon was a decisive one – one that should determine the course of the next few months for us. Either no UEFA competition at all for a year or another minimum of six matches in the group stages were at stake. Luckily, LASK managed to win that game, so this/my incredible journey can continue. In just 1.5 weeks this journey will take me to North London, namely to Tottenham Hotspur. I cannot wait for this experience and every single one that follows after it.
When I'm not busy with the Europa League I'm helping my colleagues in ticketing and domestic matchday operations. I'm also in charge of our matchday newsletter which is available at every home game. Coming up with sufficiently interesting content for the newsletter is a challenging task but one I really enjoy because it 'forces' me to do research on all things football and everything around our opponents.
What I really like is the team spirit of everyone at LASK. Everybody is willing to help each other out with the common goal of lifting the club to the next level.
Finally, I want to thank everybody at The FBA for their support throughout this journey and I look forward to meeting my classmates and The FBA staff again during module 4. Without taking the plunge when I applied to The FBA, I would never have been in the position I am now. If I ever had to give some words of advice, then they would be that everybody should follow their passion. So, if you're passionate about football you should just go for it and pursue a career in the football industry. Being permanently in touch with the sport you love is tremendously rewarding.
In my case, it combines my two greatest passions football and travel and I couldn't be more excited about this.
Let's build the future of Football together!
Lukas is a Candidate of The FBA's Professional Master in Football Business 5th Edition. He can be contacted via LinkedIn.