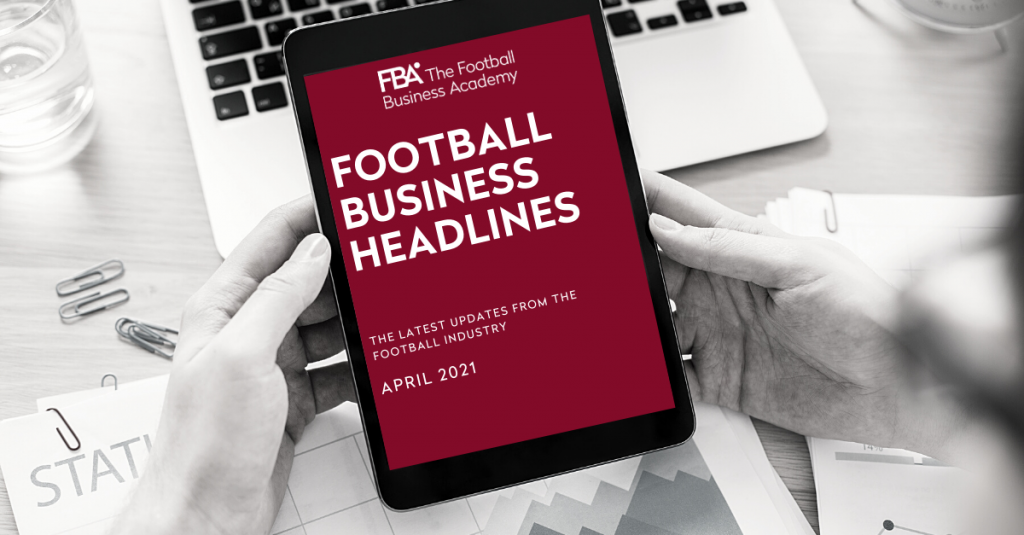 Football Business Headlines – April 2021
The Football Business Headlines – April 19th, 2021
SPONSORSHIP AND PARTNERSHIP
Chinese streaming platform Tencent has acquired the media rights for the Chinese Super League (CSL) in China for the next three seasons till 2023. Tencent will show live matches, as well as on-demand and short video coverage of CSL action, and the coverage, will be available on various Tencent platforms including Tencent Video, Tencent Sports, social media platforms WeChat and QQ. Tencent had acquired the media rights for the English Premier League in China last year. (Source)
Bundesliga club VfL Wolfsburg has announced an extension of its partnership agreement with Tennessee based soccer club Chattanooga FC. The expanded partnership will focus on three key aspects: VfL Wolfsburg becoming the jersey sponsors for the first team secondary jersey of Chattanooga, the launch of a Women's team in 2022, and a deeper focus on development across all levels of the game with a focus on coaching education and player programming opportunities. Chattanooga will become the first American club to be sponsored by a global club. (Source)
"Our logo on the chest of the away jerseys symbolizes the fact that we will increasingly share our values and stance with the club in the future and not only support it through know-how transfer in promoting youth development, but also take a holistic approach together to drive this into a true partnership and in the course of this, also bring women's football back to Chattanooga." – Michael Meeske, Managing Director, VfL Wolfsburg
The Football Business Academy (FBA) partner Portland Timbers has announced a partnership with Luckii.com as the team's Official Online Gaming Partner. The plans for collaboration include in-game and on-field sponsorships, online promotions, charitable efforts, and IP rights, including a soon-to-be-released Timbers-themed game. (Source)
Premier League leaders Manchester City has announced a partnership with digital market place noon.com to make it the club's Official Online Marketplace Partner in the Middle East. Manchester City and noon.com will collaborate to provide a number of experiences to engage with fans, customers, and local businesses in the Middle East. (Source)
ESPORTS
Football Australia has announced German body care company Nivea Men as the naming rights partner of Australia's premier EA Sports FIFA21 competition. The new league will be rebranded as the Nivea Men E-League. Australian A-League newcomers, Macarthur FC join for the first time, and two winners of the tournament will enter the EA SPORTS FIFA21 Oceania Regional Playoff which serves as a direct qualifier for the FIFAe World Cup. (Source)
The European Club Association (ECA) published their new report titled 'Esports – curse or blessing for football clubs' which looks at the opportunities and threats for clubs venturing into the esports and eFootball arena. The report seeks to provide an in-depth overview of the eFootball landscape and act as a go-to guide for clubs. (Source)
"Esports is an intriguing and attractive proposition for football clubs as it is the rising star in the sports and entertainment world and – critically – provides the opportunity to engage with new generations of fans. An imbalance of representation and a good degree of fragmentation exists and we want to enable clubs to come together to take progressive, well-informed decisions which maximise the value of their IP rights and fan engagement." – Charlie Marshall, CEO, ECA
A full version of the report can be downloaded by clicking here.
WOMEN'S FOOTBALL
Australian multinational bank Commonwealth Bank will become the largest investor in Australian women's football as they have agreed a partnership agreement with Football Australia to become the Official Partner and bank of the Australian women's national team (Matildas), the junior Matildas, the young Matildas, and more. The initial four-year partnership will inject millions of dollars into elite women's football and grassroots initiatives around the country. (Source)
"We believe firmly in anchoring the growth of our sport in women's football, the strength of our diverse community, promoting inclusivity in Australian football and enhancing the reputation of our national teams, both the Matildas and Socceroos as we embark on an incredibly busy international schedule over the next four years. This partnership is a wonderful representation of our bold new vision for the sport coming to life and the new trajectory of Australian football." – James Johnson, CEO, Football Australia
INNOVATIONS AND NEW TRENDS
Electronic commerce and online retailing company Rakuten Europe has announced a partnership with fintech blockchain company Chiliz and The FBA partners and fan engagement platform Socios.com. Through this partnership, Rakuten customers in Spain, UK and Germany can use Rakuten points to redeem Fan Tokens – collectible, tradable digital assets that provide owners with benefits including voting rights, VIP rewards, club & sponsor promotions, AR-enabled features, and super- fan recognition on Socios.com. (Source)
"I'm looking forward to watching this innovative partnership evolve further as we add more Fan Tokens and explore deeper end-to-end integrations with Rakuten, boosting our mission to build a multi-billion-dollar digital sports ecosystem." – Alexandre Dreyfus, CEO of Chiliz and Socios.com 
The South American Football Confederation (CONMEBOL) has created a new space on Twitter called @ConmebolMedia, available to sports communicators and journalists with the aim of offering information and content in a fast and direct channel. (Source)
LAW, STAKEHOLDER GOVERNANCE AND FINANCE
Serie A giants AC Milan has become the first Serie A club to sign the "Manifesto of non-hostile communication for sport" created by non-profit association Parole O Stili, with the aim to take a stand against the issue of hate speech and online discrimination. The signing of the manifesto is part AC Milan's wider RespACT campaign for equity, diversity and inclusion, launched by the Club last year. (Source)
LaLiga President Javier Tebas has been proposed by the European Leagues as its representative on the UEFA Executive Committee (ExCo) for the next 4 years. Earlier, the newly elected Board of the European Leagues approved the creation of a new structure with the appointment of a Management Board which will replace the President. The new Management Board is composed by four members Claus Thomsen (Divisionsforeningen – DEN), Mathieu Moreuil (Premier League – ENG), Javier Tebas (LaLiga – SPA), and Claudius Schäfer (Swiss Football League – SUI). (Source)
STADIUM DEVELOPMENT AND FAN ENGAGEMENT
The Football Business Academy partner SL Benfica and NOS have presented the Sport Lisboa e Benfica stadium as the first 5G stadium in Portugal. NOS has developed a5G coverage plan for the Stadium, which will allow fans and the entire collaborative structure of the Club to take advantage of this new technology. In addition to revolutionizing the experience for supporters, NOS 5G network will allow optimizing communication between technical teams, accurately measure the performance of players, access statistics and tactical analysis in real-time, and will also benefit all services related to the normal functioning of the Club, such as television broadcasts made from the Stadium or trade and catering services. (Source)
The Football Business Headlines – April 6th, 2021
SPONSORSHIP AND PARTNERSHIP
The Asian Football Confederation (AFC) and NEOM have announced a four-year global sponsorship deal that will see NEOM become an Official Global Partner of the AFC national team and club competitions from 2021 to 2024. NEOM is a planned cross-border city in the Tabuk province of north-western Saudi Arabia that will incorporate smart city technologies and function as a tourist destination. The partnership with AFC will provide NEOM an opportunity to become a center of global sport and a platform to grow its profile on the world stage. (Source)
"NEOM's partnership with AFC not only underscores the attractive and engaging platform the AFC provides through its many world-class competitions but also emphasizes the profound and lasting impact Asia's number one sport can have on strengthening communities." – Dato' Windsor John, General Secretary, AFC
"We regard and value the AFC as a progressive and innovative partner who is committed to taking football in Asia to greater heights. This reflects NEOM's own ambition to become a globally recognized centre of sporting excellence, to provide a world-class environment for the brightest minds and best talent to excel, and to contribute to the growth and economic prosperity of the Kingdom." – Nadhmi Al Nasr, CEO, NEOM
Major League Soccer (MLS) expansion franchise St Louis City SC has announced pet care powerhouse Purina as its first founding partner and kit sponsor. This groundbreaking partnership brings together two female-led organizations both rooted in St. Louis and committed to the region's continued growth and revitalization. (Source)
ESPORTS
The top-flight football division of France, Ligue 1 Uber Eats will launch its first international esports competition, the eLigue 1 Tour. The eLigue 1 Tour is an amateur esports competition played on EA SPORTS FIFA 21. For this first edition, the eLigue 1 Tour conducted qualification phases in 6 countries: Brazil, Ivory Coast, Japan, Morocco, Qatar and the United States and the six champions from these countries will compete for the international title during the eLigue 1 Tour Finals to be held in France at the very beginning of next season.  (Source)
WOMEN'S FOOTBALL
The National Women's Soccer League (NWSL) announced digital financial services company Ally as the League's first Official Banking Partner and league-wide sleeve sponsor. Ally's logo will appear on the sleeve of all NWSL jerseys beginning in 2021. The partnership also includes a Player Impact Focus Program that will deliver a portion of Ally's sponsorship fees directly to NWSL players. Ally will also work together with the NWSL to create significant Diversity, Equality, and Inclusion initiatives throughout the period of the sponsorship deal. (Source)
The European Club Association (ECA) announced the publication of its first-ever women's football strategy titled 'Be a Changemaker'. The strategy aims to help clubs drive a better tomorrow for women's football through creative actions to deliver lasting positive change. The strategy has been developed with the aim of creating a far-reaching, robust, and influential women's club football ecosystem that shows a clear path towards achieving the same level of professionalization as in the men's game. (Source)
"We are part of a growing movement committed to making a transformative difference to the women's game. But you can't delegate change, you have to lead it, and at ECA, along with our member clubs, that's exactly what we intend to do." – Claire Bloomfield, Head of Women's Football, ECA
"Through ECA's Be A Changemaker strategy, I am confident that women's club football in Europe can surpass all of our expectations." – Jean-Michel Aulas, President of Olympique Lyonnais, ECA Executive Board Member and Chair of ECA's Women's Football Committee
The 9 host cities and 10 stadiums that will host the FIFA Women's World Cup 2023 in Australia and New Zealand was announced. Eden Park in Auckland will host the opening match of the tournament and Stadium Australia in Sydney will host the final. The other host cities and stadiums are: 
Adelaide – Hindmarsh Stadium

Brisbane – Brisbane Stadium

Dunedin/ Ōtepoti – Dunedin Stadium

Hamilton/ Kirikiriroa – Waikato Stadium

Melbourne – Melbourne Rectangular Stadium

Perth – Perth Rectangular Stadium

Sydney – Sydney Football Stadium

Wellington/ Te Whanganui-a-Tara – Wellington Stadium. (Source)
INNOVATIONS AND NEW TRENDS
Ligue 1 giants Paris Saint-Germain (PSG) has become the first French football club to join the Sports for Climate Action program of the United Nations Framework Convention on Climate Change (UNFCCC). PSG will defend the five principles that make up the foundations of the UN's Sports for Climate Action program: promoting more responsible environmental practices, reducing the global climate impact, educating people about climate issues, defending sustainable and responsible consumption patterns, and communicating about climate action. (Source)
The South American Football Confederation (CONMEBOL) has launched a project named "LA CASA DEL FÚTBOL SUDAMERICANO", a series of activations on its social media accounts to tell the history of the sport in the continent. Pictures and videos of everything football-related will be up on CONMEBOL's Facebook, Instagram, and Twitter pages with the intention of telling the story of South American football, its rich heritage, and potential for future growth. (Source)
Italian club Inter Milan has unveiled its new logo with a narrative that plays on the initials of the club's name – I M, to harness the English expression "I am". The rebranding of the club logo comes with a vision to open up to today's audience that is increasingly digital and sensitive to aesthetics, to reach global targets and different age groups, and establish the club as an icon of culture as well as sport. The new logo is a modern reinterpretation of the club's historic logo and the focus is on the letters I and M, which have been preserved from the original design and are framed by the classic concentric circles. The colors of the logo remain the same as the previous one but made more vibrant and vivid. (Source)
LAW, STAKEHOLDER GOVERNANCE AND FINANCE
The Association of European Professional Football League, European Leagues, elected its new Board of Directors for the four-year cycle from 2021-25 in its latest General Assembly. The newly elected Board approved the creation of a new structure with the appointment of a Management Board which will replace the President. The Management Board is composed by four (4) members: Javier Tebas (SPA), Mathieu Moreuil (ENG), Claus Thomsen (DEN), and Claudius Schäfer (SUI). (Source)
MLS Next, the system of youth soccer leagues that are managed, controlled, and organized by the Major League Soccer (MLS), announced a series of initiatives aimed at combating racism, hate, and discrimination while advocating for social justice in the sport of soccer. MLS NEXT also established the Equity Action Committee (EAC) to its overall governance structure with a mission of ensuring an inclusive player development environment. (Source)
"We are committed to creating lasting change in youth soccer and continuing to build a platform that does not tolerate racism or other discriminatory language or behavior in any context." – Fred Lipka, Technical Director, MLS NEXT.
STADIUM DEVELOPMENT & FAN ENGAGEMENT
Major League Soccer club Austin FC opened doors to its new state-of-the-art training facility. The St. David's Performance Center is a $45 million, privately-funded, state-of-the-art training facility that sits on a 23-acre site. The facility includes two buildings with a 30,000 square-foot footprint, a training ground with four full-sized pitches, and a top-end gym for players. (Source)
About The Football Business Academy Master Degree in Football Business
The Football Business Academy is a Swiss-based high level international educational institution whose goal is to professionalize the management of the football industry and facilitate the insertion of qualified professionals and future leaders in the game. Its flagship program, a Professional Master in Football Business, was codeveloped with international football industry experts from around the world around one foremost objective: to provide Candidates with all the necessary tools and an optimal learning environment in order to succeed in this passionate and dynamic industry.