FIFA: LIVING FOOTBALL
FIFA, a name that resonates differently in everyone's mind around the world… An organization which includes over 800 employees but one common goal: BRING THE GAME TO ALL
As we arrived at the Home of FIFA, Emanuel Femminis, Senior Manager Corporate Communications, kindly welcomed us for a general introduction and gave us a tour of the sight which we will never forget for the rest of our lives.
A masterpiece building that is 2 floors in height and 6 floors in depth. The details of the building were mind-blowing as it includes special components and features from each of the 211 Member Associations that FIFA works with.
As our tour finished, it was time for our first presentation of the day which was by the Corporate Communications Manager, Honey Thaljieh. She started her presentation by telling us her moving life journey which was an emotional but a very inspiring story to all of us.
We were informed on FIFA 2.0 which includes three main pillars:
How to realize the vision – grow the game
The strategy to get there – ownership & investment
The guiding principles – transparency & accessibility
Honey also explained how FIFA has a duty to provide the most stable and sustainable foundations for the game. For this, we were thoroughly informed about FIFA's reform process which concentrated on four components:
Separation of powers
Term limits (max. 12 years for president & council members)
Disclosure of compensations
Commitment to empower women in football
She concluded her presentation by speaking on the main goals of FIFA which included:
Community building
Health & Education
Equality & Inclusion
Dialogue & Peace
As we finished our first presentation of the day, we then headed to our second presentation which was by the Chief Member Associations Officer, Joyce Cook, and the Football Governance Programme Manager, Dan O'Toole. The main component of the presentation was the FIFA Forward Development Programme. We were given insightful information on how this tailor-made project for football development in each of FIFA's Member Associations and the six confederations and how it is based on three principles:
More investment
More impact
More oversight
To be able to achieve this goal, FIFA has set up 10 Development Offices and Sub-Division & Regional Associations all around the world under each confederation. It was vital for us to understand how these associations were funded on which circumstances. In order to track and maintain the given financial funds, FIFA set up various requirements to each association and development offices which are:
Control and release funds
Audit & Mirroring Process
Assistance, Guidance & Capacity
Financial Report & Activity Report
Our third presentation of the day was with the Chief Women's Football Officer, Sarai Bareman. It was a presentation on which we all wanted to understand the vast and strategic development of women's football. The strategic framework of women's football are as follows:
Marketing Communication & Commercial
Development Programme
Competition & League
Governance of League
Social Impact
We were also informed about the expansion of teams for the next 2023 Women's World Cup which will now be from 24 to 32 nations. FIFA's main purpose of the change is to give hope for the future debutants.
"The FIFA Women's World Cup is the most powerful trigger for the professionalisation of the women's game, but it comes but once every four years and is only the top of a much greater pyramid." – Gianni Infantino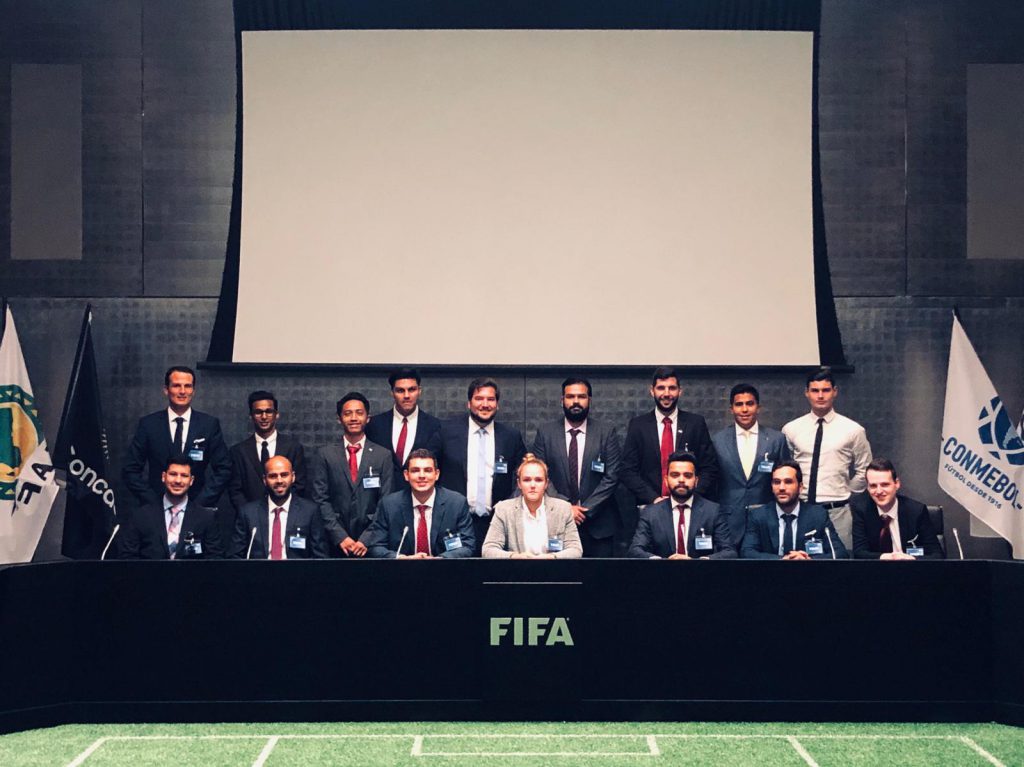 Our last presentation of the day was with the Digital Transformation & Innovation Project Manager, Pedro Iriondo. The presentation included the rapid transformation of digitalization in the football industry and how FIFA is adjusting its projects around it. He stated how brands are looking for various brand storytelling projects and how data companies have the ultimate advantage to take over football industry in the digital sector. There is a clear "power shift" in digitalization of football which is from right holders, broadcasters, and sponsors to data companies, fans & athletes, and investors.
As FIFA is adjusting the digital transformation and planning on launching their own innovative projects, here are some structural elements that they are mainly focusing on at the moment:
Guarantee Football
Understand, Connect & Aggregate
Create & Deliver
In order to achieve these elements, FIFA understands that they must know their consumers, which countries to penetrate, what content to produce, and how to use the funds for this transformation strategy.
As a young professional who aspires to be a leader in the industry in the upcoming years, it was an exceptional experience to be able to meet the leaders of today and feel like home at FIFA. It was a trip that inspired and motivated us all as football is our common passion, and we believe with the new governance of FIFA, football will be in safe hands.
Erdal Barkay is a Candidate of The FBA's Professional Master in Football Business 3rd Edition. He can be contacted via LinkedIn.