#MyInternshipAt… Guilherme Casanova takes us to Clube de Regatas do Flamengo
Thanks to my background in business management and having correctly chosen a Professional Master in Football Business at The FBA, I was able to realize a big dream of mine.
When I arrived in Flamengo, I was excited to be making a dream come true. I am Swiss-Brazilian, born in Zurich, but raised in Rio de Janeiro. Since I was a young boy, my big dream was one day to become a football player in Flamengo and make a beautiful story in the club, just like Zico, the biggest idol the club ever had. Unfortunately, I never had the talent to become a football player. But in life, we never know what may happen one day.
Thanks to my background in business management and having correctly chosen a Professional Master in Football Business at The FBA, I was able to realize a big dream of mine. I arrived at Clube de Regatas do Flamengo in April to start my 3-month internship contract with them. Upon my arrival, one of the first people I came across was Flamengo's representative I had met at Soccerex USA in Miami.
As an intern in the Events and Communication sector, my first contact with the daily routine of a club, was in the operation of a basketball game (quarterfinals – Flamengo vs Corinthians). My mission was to manage the team mascot. In the first match, I learned from the start how important it is to be aware of the rules of the championship, to know what you can do and for how long, because the timing of the game is very important to avoid delay, penalties and fines.
My next challenge was preparing for the first round of the Brazilian League. Prior to the first match, we spent a week preparing the game operation. I was in charge in coordinating the children who would enter the field with the players – a tradition that is part of the championship.
After my first experiences in basketball and football matches, I gained confidence and really felt I was part of the Events and Communication team. In total, I participated in the operation of 5 Brazilian League games, 1 Brazilian Cup and 5 basketball matches. I was able to understand how partnerships between the club and advertisers work, participate in organizational meetings and take part in inspecting the venues before the matches took place. A highlight achievement was being in charge of orchestrating the operations of a basketball game. My supervisors trusted me with the responsibility to organize activations and delegate tasks to the rest of the team.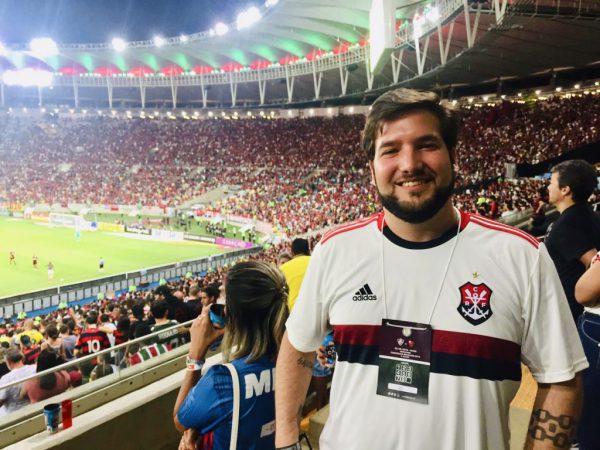 In addition, I had the freedom to connect with people from other sectors of the club and always tried to help whenever possible. For example, I was able to schedule and attend a meeting between a company that was interested in doing some activations at the basketball finals. I also helped Flamengo's eSports coordinator in preparing a video game room for an activation with their partner. I also attended the photo shoot of Flamengo's second uniform with the players and attended a promotional shooting for the team's sticker album with the players.
During the Copa America, the team was not playing, but in the events sector, we were promoting Flamengo's brand. An NGO called Generation Amazing from Qatar, in partnership with UNODC (United Nations Office on Drugs and Crime) held a social activation at the club's stadium. I was responsible for ensuring the facilities of the stadium were in good conditions to receive the event which included children from poor communities of Rio de Janeiro and big names of the Brazilian football industry.
A memory I will always cherish from my time in Flamengo, was the operation of a training game, in my last week at the club. The team's new coach, Jorge Jesus, decided to schedule a training game against the team of Madureira in Flamengo's stadium located at the headquarters. In the last 30 years Flamengo's first team had very rarely used this venue and that friendly match was a sign that the team wanted to go back to its roots. It was amazing to experience and see so many of the club's legends very closely.
All of the work I had done up until then had been exhausting at times, but it was worth every second. Every drop of sweat, every sleepless night had been worth it, because only a few people have the unique opportunity of experiencing Flamengo's daily grind. It was a great honour to have been part of this family and I am grateful for being so well received. I saw that those who have competence, willingness to work in this industry, and passion for the game, they can go to Flamengo and I'm sure that the club will be very happy to receive them.
Guilherme Casanova is a Candidate of The FBA's Professional Master in Football Business 3rd Edition. He can be contacted via LinkedIn.