Aldi Dargawan (7th Edition) & Yeremias Fade (8th Edition) – Scoring in Asia: How to Maximize Asian Market Potentials?
Kai Havertz's goal secured Chelsea's second Champions League title in this year's all-English final at the Estadio Do Dragão. 6,000 of The Blues fans made it to Portugal and celebrated with the players, while the other thousands back home, who were not so fortunate to get a ticket, gathered and were celebrating outside Stamford Bridge.
Around 9,000 km away to the east, a group of people lit the WFC Tower in Chongqing, China with the Chelsea Logo and the words "Blue is The Color". Not only in China, from Amman down to Tokyo, Chelsea fans from Asia fell into the same excitement on Sunday (30/5). Some of them woke up at 2 am, the others chose to stay awake until early morning.
The Asian market is like Westeros in Game of Thrones. Big teams are fighting for supremacy in certain regions. Undisputedly, Manchester United is the king of the Far East, whereas Liverpool is well supported in Australia and Thailand. Spanish clubs are gaining popularity as the Asian audience has grown by 70% for the past three years. The other giants like PSG, Bayern, and Juventus have their own strategies to untap this potential market. Why have they gone this far?
Easy to Capture, Easy to Convert?
We don't believe that the European market has saturated, it is just the world that has globalized. The football industry is changing more rapidly than ever. Tighter competition, the endless rise of players salary, and Covid has been forcing clubs to innovate and find new sources of income. While the number of middle-class citizens is stagnating in other continents, it is estimated that by 2030, the number could rise to 3.5 billion in Asia. As the economies of countries like China and India continue to grow, the appetite for football keeps pace.
The consumption of professional sport within Asia has conventionally been regarded as a potential site of de-Westernization (Rowe & Gilmour, 2008). The influence of transnational broadcasters and the low quality of domestic football are giving privilege for European football properties to intensively launch their marketing efforts. The real question is not just how to reach them out, but also how to turn these mass support and football appeal into revenue? Hence, the following are suggested as certain areas that clubs should address to successfully enter the market:
In other cultures, football is followed in different ways. The bond between the club and fans is not always passed by generation. According to some polls from research firm Ganassa LLC, only 3 out of 20 East Asian fans support the same club as their father. Reasons for supporting a European club might vary, but the profile of player and manager surely becomes the main factor. At least 68.1 % of fans in China are looking at this figure. They are more likely to change clubs as their heroes roam. Clubs need to be selective and start slowly on a tiny fraction that they think is financially valuable.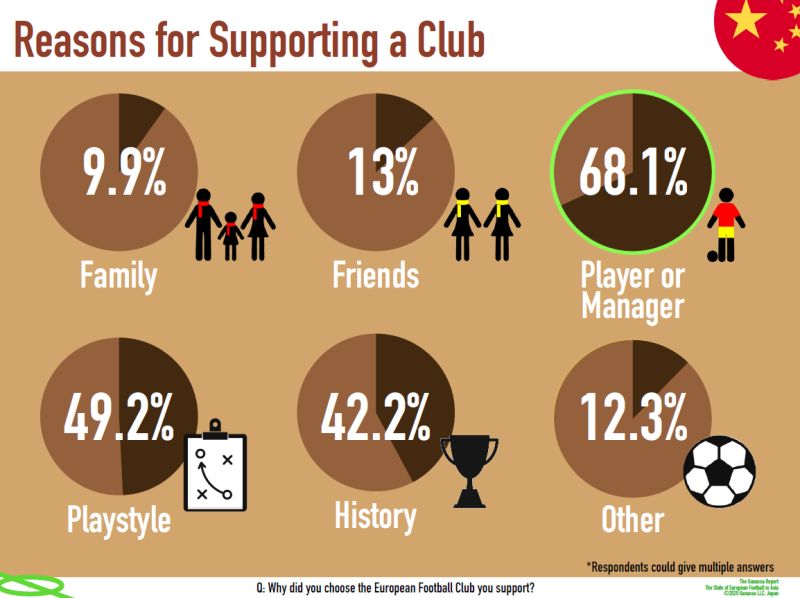 Source: Ganassa LLC
Another thing to consider, sometimes a huge fan base does not always translate into sales. Especially in areas where product piracy and illegal streaming access still scourge for clubs to maximize the ROI. In 2012-2013, Indonesia was visited by many European teams for a summer tour. The tour was even heard in other countries. This exposure from Indonesia became an entry point for European teams to convince sponsors to take them to pre-season in other Asian countries in the following years. However, they never came back to Indonesia. They prefer other Asian countries with greater purchasing power like China, Singapore, and some Middle East countries (Glenniza & Bimantoro, 2019).
Bilateralism Through All Stakeholders
The concept of bilateral partnership should benefit both parties included. Football has long been used to forge closer ties between Europe and Asia. SD Eibar, which currently plays in the Segunda division, is the third most visible Spanish club in Japan after Real Madrid and FC Barcelona. It takes 2 Japanese players (Takashi Inui & Yoshinori Muto) to successfully leverage their brand across continents. Not only strong web engagement and product sales online, but also a recognized supporter's group in Tokyo, which barely anyone believed could have existed years ago. Numbers of supporters were also invited to Ipurúa to watch matches. However, this strategy should all be measured on technical aspects, as the player should perform well if they don't want to be labelled a marketing player and how this engagement is still ongoing if the players leave. 
Players are like celebrities, but they are not the only tools to bring two worlds together. "Tourism is a significant contributor to our country, Thailand," said King Power CEO Aiyawatt Srivaddhanaprabha. Since last year, Thailand has been trying to rise from the impact of the corona outbreak by re-boosting the interest of travelers around the world. Leicester City have enjoyed incredible support in Thailand since they were acquired in 2010. During last season they put "Thailand Smiles With You" on the front of their jersey which aims to support the country's recovery from the COVID-19 crisis. This campaign also saw Leicester City reach deeper engagement with key communities and strengthen the relationship between football fans in Leicester and Thailand.
Partnership is also implemented by the CSR program. Real Madrid Foundation with International Social Sports Development Foundation (ISSDF) from Indonesia have collaborated on Social Sport School Real Madrid Foundation (SSS RMF) program to schools in several cities. One of the programs is the coaching clinic for the local underage children which is organized regularly. This is aimed at all Indonesian children in need to deal with the implementation of poverty eradication strategies and cope with the trauma caused by natural disasters. The CSR by Re al Madrid Foundation is an example of the approach based on social local issues to get more engaged with the society from the destined country.
Fight for Consumers Attention
All roads lead to Rome, there are many ways to attract Asians' attention. According to Ganassa LLC, around 71.2% of audiences are following social media in the local language to follow the news about favourite clubs. At the moment, we usually see the Twitter account of Liverpool in Thai Language or Man United in Indonesian language, and recently Tottenham launched their Korean Twitter account. The main club official accounts join the same movement, such as posting in several different languages and greeting the national days usually celebrated by Asians like Chinese New Year, Eid Mubarak, or Deepavali. Especially in this pandemic, digital approaches are very important for European clubs.
To attract the Asian market, European clubs also expand their operation like PSG who opened their first overseas office in Singapore in 2018.  The French giant saw this opportunity as a hope to increase their brand visibility, explore new partnerships, and nurture a growing fanbase in Asia. PSG as one of the leading clubs in Europe want to transform into a great international brand.
"Asia is a zone that holds great potential for Paris Saint-Germain. We are delighted to open our first international office on the Asian continent, with the aim of bringing the club as close as possible to an audience that is becoming more and more interested in football and its opportunities."
PSG Deputy Managing Director, Frédéric Longuépée
PSG Managing Director Asia Pacific, Sébastien Wasels at his speech on Singapore Office Inauguration
Source: French Embassy in Singapore Facebook Page
La Liga uses the specific approach by the La Liga Global Network since 2016, which is composed of 46 delegates around the world (including 9 in Asia). Head of La Liga Global Network, Octavi Anoro said the delegates have been sent to develop strategic markets to understand the local sports industry, the local community, and find new opportunities. The La Liga Delegate for Korea, Sangwon Seo explained that the La Liga Global Network has to demonstrate that La Liga is physically present in the country. He worked with local social media influencers on a 'Shoot for Love' project, the strategy to make La Liga closer to Korean football fans. Seo emphasizes the significance of cooperating with the popular local stakeholders, such as Korean Professional Baseball League to exchange knowledge and training programs due to the high popularity of that sport. Then, the presence of Korean players in La Liga like Lee Kang-in is also helpful for Korean media attention.
The emergence of cryptocurrency cannot be underestimated, including the fan token which is the breakthrough to enlarge their fan base. In Asia, crypto is more common and fan bases are rapidly growing. Chief Investment Officer of Anchor Value, Jason Kim stated that the growing interest in cryptocurrency is happening in the region, as well as the long-standing passion toward professional football leagues. Since 2018, Chiliz has paid attention to the Asian market potential when they opened the branch office in Singapore. CEO Chiliz, Alexandre Dreyfus emphasized clearly the importance of Asian market, "The Chiliz Singapore office will help to build brand awareness in a market with huge potential for both Chiliz and the Socios.com platform. This new South-East Asian hub will help to increase and further the proliferation and education of blockchain technology."
Asia also has a big number of potential talents. As a mutual development, clubs started to build academies and collaborate with the local stakeholders to develop talents. Vice versa, the local football will learn from European coaches to develop their talent and the academies can be a golden chance for players to go abroad in the future. For example, cooperation between PSG and Bali United FC to build PSG Academy Bali between 2016-2019 which contained an exchange program on training skills and methodology between both clubs through the PSG youth academy.
Source : KPMG Football Benchmark
At this pandemic situation, clubs started to enhance digital engagement by creating a virtual summer tour. Last year, AC Milan implemented this strategy with digital events by virtual interaction with players and online store launching. While this summer, Borussia Dortmund planned to do the same event in the USA, Brazil, Poland, India, Japan, South Korea, Vietnam, Singapore, and China. There will be special fan club meetings, game challenges with BVB youth players and partners, until live streams of the team training.
These general points just show a big picture of how interested clubs can tap into the Asian market. Specific ways like using the agency as an intermediary to get partnerships with Asian brands can also be considered. But, one thing to keep in mind now is how to attract younger fans in China while at the same time not forgetting your team's season ticket holders that have been supporting for 50 years.
Aldi Dargawan & Yeremias Fade are Candidates from the 7th Edition and 8th Edition you can contact them on LinkedIn: Aldi & Yeremias