"A girl can dream and here I am at Girona FC, still dreaming. Working for a club with an ambition for the future… Orgull Gironi!"
After 4 years of a diverse career, I decided to bring my knowledge and my experiences to my dream industry: Football. It is an amazing sector with huge potential for growth and has a demand for professionals who are ready to work hard and lead the industry for the future. But where to start? By joining The Football Business Academy family and their Master program and the confidence they evidence with every detail that's taken care of by their labor.
After two modules of insightful and holistic lessons with professionals from all over the world, I moved to Girona, a small and charming town located in the Catalonia region of Spain, where I began my internship at the biggest local club, Girona FC. Here, I have been working as a Digital Business Transformation & Partnerships Intern, a mixed position where I have learnt both about internal operativity and external contact. My key takeaways from this internship were, Corporate Hospitality and how cybersecurity is not only a trend but a competitive advantage for any enterprise. Also, how creativity and innovation are going to be a crucial for a workforce to deliver their best within the current technological revolution.
Inside the Digital Business Transformation Department, I am currently supporting the creation of a guiding document which is about the main strategy which the club should follow in order to adapt to the changes in the industry. Emerging technologies have settled a bunch of new preferences and needs for fans, sponsors, employees and potential stakeholders. Therefore, establishing a series of key performance indicators and a list of goals to reach, has become an urgent priority for my role.
Regarding the Partnerships & Business Development Department, I have learnt everything about sponsorship rights, creative fan activations and mostly, how to build long-term relationships where both our sponsors and the club capitalize their assets. Taking part in this area has made me realize that the essence of a football club goes far beyond the pitch and, as an employee, you need to fully comprehend your product to fulfill everyone's targets.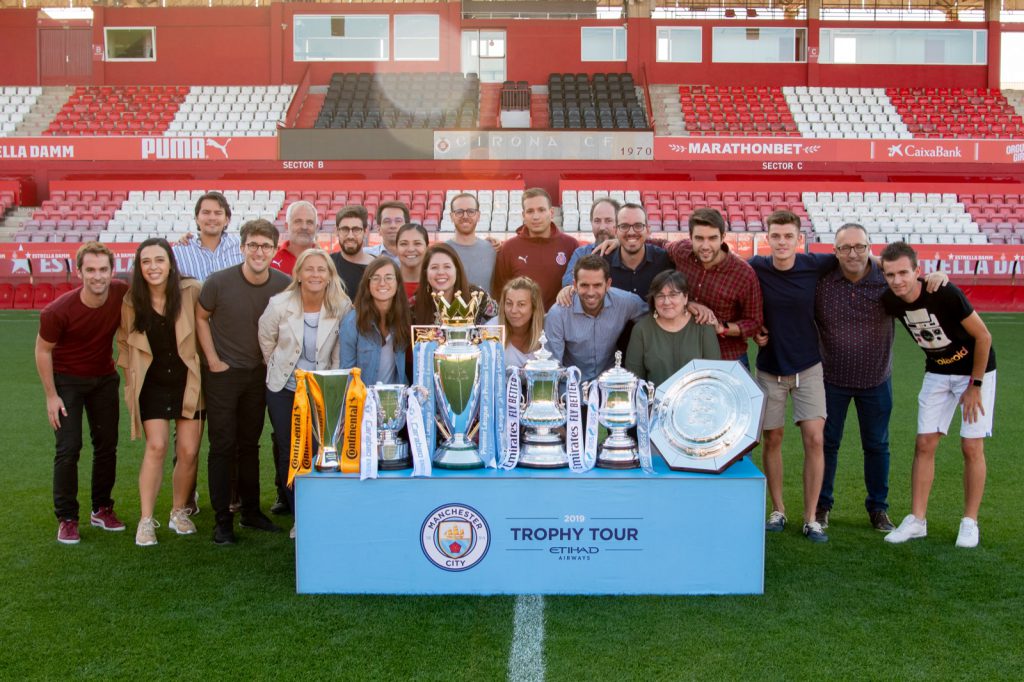 Sure, working and gaining specific experience in football is important and professional, but the best part of my job? I am absolutely in love with Montilivi (Stadium of Girona FC)! Working at the stadium, having lunch with an awesome view at one of the best pitches in LaLiga and of course, attending to every match and enjoying its vibrant atmosphere, has made me connect with city of Girona a lot quicker than expected.
A girl can dream…and work hard to accomplish her dreams. As a young Colombian woman, I am aware of the opportunities that I have received in my life: A family who stands by me, two chances of working for the government, interpreting for an English football club and visiting top class stadiums in the Premier League, living a semester abroad, and attending to a World Cup. A girl can dream and here I am at Girona FC, still dreaming. Working for a club with an ambition for the future, with this attachment to a way of living and feeling, "Orgull Gironi", a proud representation of a region with a vast historical heritage and importance such as Catalunya.
I am grateful today and, even though the described did not arrive without any effort, I understand how rare it might sound for many people around the world. Thank you to The Football Business Academy for accompanying me and making it possible!
Maria Laura Ordoñez Vargas is a Candidate of The FBA's Professional Master in Football Business 4th Edition. She can be contacted via LinkedIn.