"I will always remain grateful for the opportunity The FBA gave me to work and achieve big things in this industry."
The experience of a lifetime! Football has been the sport that I have always been passionate about since my childhood. I remember playing it almost every day at school and on the weekends with my friends. While I was growing up, I was not only playing football, but I was also going to the stadium to watch my favorite team with my dad in Ecuador. Football had created so much excitement in me that I was spending a lot of time watching sports channels and talking about clubs, players, line ups and transfers. Time passed by and I graduated from high school with a strong desire to study sports journalism and become the best professional I can be in the industry. A couple of months after graduation my parents had the opportunity to move to the U.S as permanent residents and we all came aboard for the adventure.
I arrived in New York in 2012 and immediately started looking for colleges with a good sports journalism program. Unfortunately, I could not find a college with a curriculum focused in sports. I was discouraged and, under some pressure to start classes, I chose to try a career in   Marketing and Communications instead. During my college years I worked at Adidas and Nike running their football departments and organizing events at their respective flagship stores. I continuously saw myself being involved in football and really enjoyed what I was doing. Four years of college went by and, while I enjoyed my classes and learned about interesting subjects, I wasn't convinced I would like to work in Marketing or Communications. Once again, I had the opportunity to work in sports, but this time in tennis. I worked for two consecutive summers as Fan Experience and Sponsorship Manager at the US Open in New York. My job was to engage with fans throughout the tournament and act as a liaison between United States Tennis Association, fans and sponsorships. This job reminded me of my passion for sports and pushed me to follow my dream to become an expert in the sports industry.
From that moment on, I started to narrow down my options and decided to look for a master program that focuses on the business side of football. I wanted to complement my studies in Marketing and Communications with a graduate program in the sport I am passionate about. After searching for programs, I came across The FBA and liked its program. The structure was complete, the schedule flexible and the curriculum unique. The program also interested me for its relationship with well-known industry experts and established business partners. I also knew that to break into this industry and learn its intricacies I needed opportunities to network and work with industry experts and professionals. That's what I found particularly appealing in this program – the opportunity to attend networking events, like Soccerex, and the opportunity to intern at the offices of football clubs.
I recently finished the third module of the program, which is the internship. I had the opportunity to intern for Real Club Deportivo Mallorca with the Marketing, Communication and Ticketing departments. Real Mallorca is a Spanish Football team based in Palma, in the Balearic Islands and it was founded in 1916. The team is also known for important players such as Samuel Eto'o and Marco Asensio, both which have been part of the wonderful roster of footballers that played in the club before becoming stars in Spain. The team had its years of glory in the 90's and in the 2000's while playing in the first division. Unfortunately, the team fell off 6 years ago because of bad management and this past season was playing in LaLiga 1|2|3, the second division. In 2016 a new management, headed by American investors, gave the team a new beginning and things are now running smoothly, and decisions are being made carefully.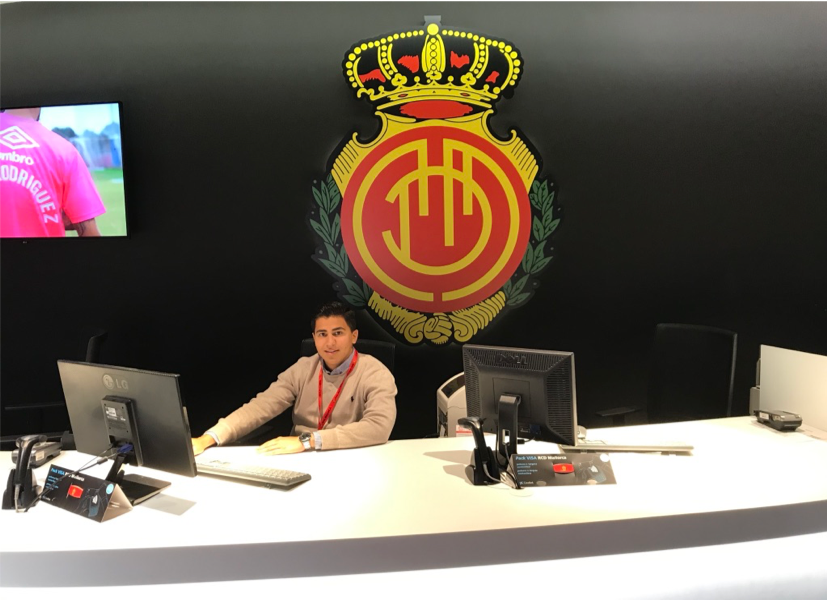 At Real Mallorca, I was able to gain experience in the three main departments in the business side of managing a football club. I started in the Marketing department looking over the different sponsorship deals the club has. My first project consisted of making a digital map of our home stadium, Son Moix, and showing where each sponsor is located inside. We wanted to look at how much each sponsor is paying according to the size of their advertisement and the visibility they are getting from fans and on TV. I was also part of different marketing activations with main sponsors and some events with LaLiga.
One thing I enjoyed while working in the Marketing department was that I had the chance to sit down in different meetings with clients for prospect sponsorship deals. In this experience I learned the importance of a tailor-made proposal that fits the needs of both the club and the company we are working with. On the other hand, in the Communications department I was working closer with the media and the players. The majority of the time I was at the training facility arranging different interviews the media wanted to have with the players. I was also setting up media press conferences with the coach and players and writing articles about them for the club's website. Game days were the busiest for me because I was responsible for the content for our social media platforms. I had to arrive hours earlier to gather photos and videos before the reception of the team with the fans. At the end I was happy and proud to have been able to increase our followers base in Instagram and raise the engagement of the fans during home games. I couldn't finish my internship without working in one of the pillar departments this year, ticketing. In this department my job was more of a support role and a customer- facing one. I was in the box office handling ticket holders' inquiries and overseeing online sales. I was also doing research about clubs in first division to compare the number of ticket holders and stadium capacity to have an idea how many single tickets are left for sale after subscribers' purchases.
My overall journey as an intern was beyond what I expected. I found a united group of people at the office and everyone was truly welcoming and supportive. I was able to blend in quicker with my co-workers and soon enough started to contribute to attain the same goals. It also helped that the team was having great results on the pitch and that also reflects with the environment at the office.
Football has good and bad moments and I was lucky enough to arrive to Real Mallorca in their best moment. Since my arrival to the club we didn't lose any home games. We joked in the office with my co-workers that I brought all the good vibes to the team and that's why we were so strong at home. After 6 years of relegation in LaLiga 1|2|3 the team was able to come back to the top flight and compete with the best teams in the world. The Mallorcans were consistent throughout the season and that had to pay off sooner rather than later. My experience couldn't finish any better, with a total sell-out of tickets and approximately 21 thousand people cheering for an outstanding comeback to LaLiga Santander. Sunday, June 23rd, 2019 will always be my first and most memorable moment in the world of football, and honestly none of this would have been possible without The FBA program. I will always remain grateful for the opportunity the institution gave me to work and achieve big things in this industry.
Gràcies RCD Mallorca! #HemTornat
Fabian Baquero is a Candidate of The FBA's Professional Master in Football Business 3rd Edition. He can be contacted via LinkedIn.