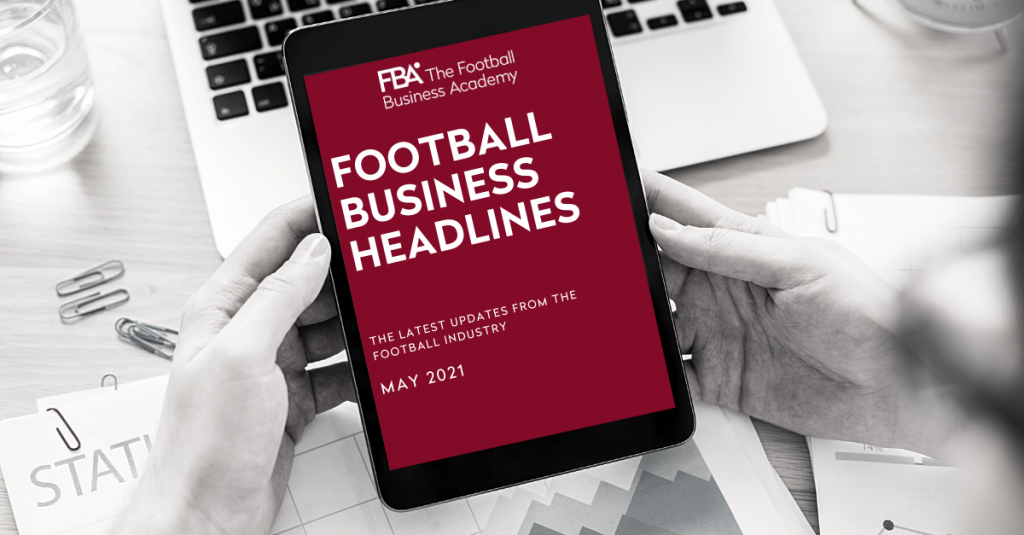 Football Business Headlines – May 2021
The Football Business Headlines – May 31th, 2021
SPONSORSHIP AND PARTNERSHIP
The Australian Professional Leagues has announced a landmark deal with ViacomCBS Australia and New Zealand for the broadcast of the A-League and Westfield W-League. Network 10 and Paramount+ will be the new home of A-League and Westfield W-League. The five-year agreement which commences next season will change the landscape of sports in Australia. (Source)
Turkish first division club Bursaspor has announced plans to launch a $BUR Fan Token on fan engagement and rewards, and The Football Business Academy partner platform Socios.com in the coming months. The Bursa-based side will become the sixth Turkish club to launch a Fan Token. (Source)
"Our aim is to establish a stronger and more sustainable communication between our fans and our club. In this sense, with the $BUR Fan Token, our fans will have the opportunity to have a say in club decisions and at the same time win valuable awards and privileges." – Erkan Kamat, President, Bursaspor
ESPORTS
Italian Serie A club Atalanta BC has signed a long-term exclusive partnership with Konami Digital Entertainment BV. Konami will become the Official Video Game Partner of the Bergamo based club and they have secured exclusive rights to the use of the Atalanta license, including team name, crest and kits, within real-time football simulation games, starting with the 2021/22 football season. (Source)
WOMEN'S FOOTBALL
FIFA has published its first-ever comprehensive analysis report on the development and professionalisation of elite women's football landscape around the world. The report includes survey results from 30 leagues and 282 clubs on sporting, governance, finance, fan engagement and player-related topics.
"Boosting the development and growth of women's football – on and off the pitch – is a key commitment and top priority for FIFA. As the interest continues to increase, we must focus on developing an in-depth understanding of the elite women's football landscape. This document has been developed with the aim of supporting our women's football stakeholders to better understand this landscape and to maximise its big potential." – Gianni Infantino, President, FIFA
"It is paramount, as we look to the future of our game and take decisions that will impact generations to come, that we base these decisions on a clear understanding of where we are. This means generating these insights into what is working well in the current context. This report is an important document to support the decision-making process of the stakeholders involved in the game." – Sarai Bareman, Chief Women's Football Officer, FIFA
A full version of the report can be downloaded by clicking here.
INNOVATIONS AND NEW TRENDS
England Football League Two side Forest Green Rovers have launched the world's first digital kit.  The Forest Green Rovers' 2021/22 kit has been created in partnership with PlayerLayer and the club teamed up with digital clothing brand republiqe to break new ground in the world of football kit. All fans need to do is upload a picture– chose whether they want to buy the digital shirt for £5 or the full kit for £10 – and they will get e-fitted. The image can then be used online. (Source)
"Digital fashion is a really exciting but improbable frontier.  It's super-low impact, and we're really excited to launch our shirts made from nothing but pixels.  We've also worked really hard to lower the impact of the real kit too – thanks to our new coffee grounds material, available in limited numbers.  This is the direction of travel, and hopefully more clubs will wake up and smell the coffee and push the pixels." – Dale Vince, Chairman, Forest Green Rovers
Ligue 1 giants Paris Saint-Germain has become the first ever European football club to open a permanent retail store in the United States. The new location will be at the Westfield Century City Mall in Los Angeles. These new store openings form part of the ground-breaking 10-year retail and merchandising deal signed between Paris Saint-Germain and Fanatics in 2020. (Source)
LAW, STAKEHOLDER GOVERNANCE AND FINANCE
KPMG have released the sixth annual edition of the "Football Clubs' Valuation: The European Elite" report, which ranks the 32 most prominent European football clubs based on their Enterprise Value as calculated by KPMG. Real Madrid remained the most valuable club, while FC Barcelona overtook Manchester United for 2nd place. Key findings from the report are:
After years of constant growth, the aggregate EV of the 32 top clubs has decreased by EUR 6.1 billion (-15%) year on year.

Broadcasting and matchday income were impacted to the greatest extent by the pandemic, whereas commercial revenues slightly increased, mainly thanks to agreements signed before the start of the health crisis.

Only seven of the top 32 clubs reported a net profit, compared to 20 profitable clubs a year before.
A full version of the report can be downloaded by clicking here.
FIFA has launched a consultation process among stakeholders to reflect on the future of global football. The consultation process under the leadership of FIFA's Chief of Global Football Development, Arsène Wenger will involve all key football stakeholders' groups such as players, coaches, clubs, leagues, scientist/medical doctors, media, commercial and broadcast partners and fans, as well as representatives from confederations and FIFA's member associations. Key focus of these consultation sessions include:
Planning and shaping the football of tomorrow with the ambition to improve the quality of football globally.

Organising meaningful competitions for fans without adding dates to the current match calendar or even reducing them for both the men's and the women's game.

Considering the sporting factor as the main priority, giving every country and every talent a chance.

Impacting the global competitive balance.

Improving the experience for players and fans.

Observing and preserving the well-being and health of players.

Respecting the global competitive balance of football at national team and club level.

Investigating the Laws of the Game that follow and influence the evolution of the sport and the introduction of technologies. (Source)
The Football Business Headlines – May 25th, 2021
SPONSORSHIP AND PARTNERSHIP
LaLiga and Microsoft Corp. announced an expansion of their partnership. The collaboration will provide LaLiga with new growth and business opportunities by leveraging the best innovations emerging across the sports market. The companies will also collaborate on developing technology solutions to the media and entertainment industry through LaLiga's technology offering, LaLiga Tech. (Source)
English Premier League side Wolverhampton Wanderers have agreed on a multi-year partnership with British premium sportswear brand Castore to become the club's new on-field partner. The landmark deal boasts the largest technical partner sponsorship fee in the club's history. Castore will manufacture all on-field playing kits and side-line apparel, while Wolves will manufacture and distribute a range of replica products under license from Castore. (Source)
Juventus and Portuguese superstar Cristiano Ronaldo has been unveiled as the Official Global Brand Ambassador of sports media business LiveScore. Ronaldo's image will be used across LiveScore's digital inventory and content. The collaboration will last for at least two seasons. (Source)
ESPORTS
Everton FC forward Dominic Calvert-Lewin has been made a brand ambassador of esports start-up Semper Fortis Esports PLC. Calvert-Lewin will promote Semper Fortis assets and will interact with the company's online community, produce content, and accommodate fan activations. (Source)
WOMEN'S FOOTBALL
The English FA has launched the UEFA Women's Euro 2022 Legacy programme. Each host city has a local legacy plan which sets out ambitions across participation, coaching and refereeing up until 2024. The three national host city goals are:
EQUAL access for all girls to play football in school and clubs.

DIVERSE workforce of coaches, referees and local leaders delivering and organising football for their communities.

INCLUSIVE, safe and welcoming environments for every woman and girl to play competitive or recreational grassroots football, irrespective of ability, disability, age or ambition.
The Legacy programme booklet can be downloaded by clicking here.
"Our host cities, clubs and local authorities are up to the challenge of providing more opportunities for women and girls than ever before and knowing The FA's long-term commitment to the women's game, we have no doubt that together we will set a new European benchmark." – Nadine Kessler, Chief of Women's Football, UEFA
The American National Women's Soccer League (NWSL) and Mastercard have announced a multi-year partnership. Mastercard and the NWSL will work together to elevate the experience for fans, with one of the top NWSL players, Crystal Dunn, joining the all-star roster of soccer players who serve as Mastercard Global Brand Ambassadors. As part of this partnership, Mastercard will create a soccer-themed curriculum for its signature science, technology, engineering and mathematics (STEM) program, Girls4Tech™. Mastercard will also dedicate time and resources to educating players on their own financial wellness, better enabling them to pursue opportunities that will bring more ubiquity to sports across gender. (Source)
"The planned Mastercard activations have the power to unite and energize not only our current fan base, but to bring even more fans in, truly benefitting our players and women's soccer overall."  – Lisa Baird, Commissioner, NWSL
"We are honoured to support the very passionate NWSL fan base. Together with the league, we look forward to elevating their game day experiences all season long, bringing fans closer to what they love." – Raja Rajamannar, Chief Marketing and Communications Officer, Mastercard
INNOVATIONS AND NEW TRENDS
Serie A giants AC Milan has opened a new office in Shanghai, China and also has closed a partnership with China's premier sports academy PacificPine Sports, which will lead to the opening of a number of AC Milan Academies across the country. The project will actively involve the U18 target, with a specific focus on grassroots (U5 – U12), playing a central role in the education of the younger generations. (Source)
Major League Soccer (MLS) and Twitter are teaming up to honour supporters of the league's teams with a unique jersey swap for the weekend of May 29. Fans who have made a positive impact in their communities will be recognized after each MLS match that weekend, with the celebrations to feature adidas PRIMEBLUE jerseys made from recycled ocean plastic. Fans can nominate deserving profiles on Twitter using the hashtag #JerseySwapEntry, tagging the club, and sharing a brief description of why their nominee should be recognized. (Source)
"We are a League defined by our unique supporter culture and this program is a way to honour inspirational fans and to share the positive impact of the MLS soccer community. We are also excited to flip the idea of the jersey swap on its head and find a progressive and unexpected twist with a great partner like Twitter." – David Bruce, SVP of Brand and Integrated Marketing, MLS
LAW, STAKEHOLDER GOVERNANCE AND FINANCE
The FIFA Council approved a third package of reforms to the transfer system. The latest package follows previous reforms that resulted in the creation of a clearing house and regulatory conditions to enforce the payment of training compensation. The FIFA Council also approved dates for the FIFA Women's World Cup Australia & New Zealand 2023™ from 20 July to 20 August 2023. The new play-off tournament for the FIFA Women's World Cup 2023 will be held from 17 to 23 February 2023. Dates for the FIFA U-17 Women's World Cup India 2022™ (11-30 October 2022), FIFA U-20 Women's World Cup Costa Rica 2022™ (10-28 August 2022), as well as a 14-team play-off for the FIFA Arab Cup 2021™, taking place between 19 and 25 June this year were also approved. (Source)
The Confederation Africaine de Football (CAF) announced a new team that will lead the work of CAF in the standing committees. CAF President Dr. Patrice Motsepe will lead the organizing committee of the Total Africa Cup of Nations. Interclub Competitions and the Club License management system will be chaired by Mr. Ahmed Yahya, second CAF Vice-President. Mrs. Kanizat Ibrahim is the new president of the women's football organizing committee. A full list of the new members of each of CAF's committees can be seen by clicking here.
Canada Soccer has launched a public engagement campaign to assess the priorities of the Canadian soccer public ahead of the development of its 2022-26 Strategic Plan. The engagement includes a call for user-generated content to support the development of Canada Soccer's Return-to-Play initiatives and will target of at least 3,000 responses from across the range of players, coaches, referees, administrators, parents, fans, and supporters young and old. Additionally, Canadian citizens can submit videos answering three key questions being posed to Canada Soccer's National Teams to develop a Return-to-Play campaign as part of the submission. (Source)
UEFA has launched a landmark consultation process to unite European football stakeholders and strengthen the future of the game. The new 'Convention on the Future of European Football' will bring together representatives of national football associations, leagues, clubs, players, coaches, fans and agents to discuss long-term policy and governance reforms. UEFA intends to lay the foundations for European football's sustainable and inclusive recovery and future together with its major stakeholders. The Convention will focus on working with all stakeholders and partners on swift concrete, collaborative and comprehensive actions that can be undertaken to ensure the short- and long-term positive development of the entire football pyramid in Europe. (Source)
"With this Convention process we will talk to each other, listen to each other, and find and enact solutions together. Now more than ever people across Europe expect action and solidarity in the interest of all of football in all of Europe, and that is what we will focus on delivering." – Aleksander Čeferin, President, UEFA
The Football Business Headlines – May 17th, 2021
SPONSORSHIP AND PARTNERSHIP
American multinational sports network ESPN and LaLiga have reached a long-term agreement that will make ESPN+ the new English- and Spanish-language home for LaLiga Santander and LaLiga SmartBank in the United States for the next eight seasons through 2028-29. ESPN+ will stream live and on-demand replay coverage of all 380 LaLiga Santander matches and a selection of LaLiga SmartBank matches each season. (Source)
"This is a historic eight-season agreement in U.S. soccer broadcasting that speaks to the power of LaLiga and its clubs in the largest media market in the world and will bring the world's best soccer league to American screens in a more comprehensive and modern way than ever before." – Javier Tebas, President, LaLiga
English Premier League club Everton has signed with fintech innovators Sokin as its Global Payments Partner. Sokin's partnership with Everton will see them strategically support the Club's FX and payments needs through its global platform. (Source)
ESPORTS
International sports business agency Blue United Corporation's professional esports team Blue United eFC has partnered up with AuB Inc., a food-tech start-up founded by former Japan National Soccer Player Keita Suzuki, to improve athletes' gut condition. AuB's logo will be included on the back of the Blue United eFC jerseys. (Source)
WOMEN'S FOOTBALL
The Federal Government of Australia has announced a grant to Football Australia to support High-Performance objectives for its women's teams Westfield Matildas, Young Matildas, and Junior Matildas. The funding which comes as part of Football Australia's ambitious Legancy'23 plans will support Australia's pipeline of talent and competitive depth with a world-class program leading up to the home tournament. The Government will provide $12 million over two years to support the progression of elite women's football in Australia. (Source)
INNOVATIONS AND NEW TRENDS
Argentina will become the first national football team in the world to use Fan Tokens on Socios.com fan engagement platform after The Argentine Football Association (AFA) in partnership with Chiliz announced plans to launch an Official $ARG Fan Token for the Argentina National Team. (Source)
"This agreement clearly responds to our strategy and also reinforces our digital growth. Through Fan Tokens, fans will feel closer to our national team and will be able to influence the team, earn rewards and enjoy exclusive experiences." – Claudio Tapia, President, AFA
"The future of sport rests on transitioning passive fans into active fans through transactional fan engagement; our fan engagement platform enables our partners to plug into a global network of elite sporting organizations and achieve this necessary evolution. " – Alexandre Dreyfus, CEO, Chiliz and Socios.com
French Ligue 1 club AS Monaco has presented its new brand identity which will be used for all of its activities and club exposure and will accompany the Club's new impetus. RISE.RISK.REPEAT, AS Monaco's new brand underlines the identity, the history and the view of the future of AS Monaco in the cosmopolitan context of the Principality. (Source)
Major League Soccer (MLS) club Columbus Soccer Club announced updated brand marks while embracing the Crew's history and tradition of the club and its trademark Black & Gold colours. The Crew's new marks set to elevate the city of Columbus, recognizing the global stage of soccer and the opportunity to represent the city for which they play, the club said in a release. (Source)
LAW, STAKEHOLDER GOVERNANCE AND FINANCE
Global game giant Azerion has become co-owners of The Football Business Academy (FBA) partner and Eredivisie club Fortuna Sittard by acquiring 20 percent of the shares of the club. Azerion will work together with the club to bring fans even closer together through the use of digital, social and interactive means of communication by creating entertainment through games and exclusive content. (Source)
FIFA has published its year-long study on the global football talent ecosystem that analyses youth football and talent development practices and structures around the world. The data gathered during a 14-month long project has been compiled into a global report on the state and direction of talent development, as well as a dedicated country report for each of the 205 FIFA member associations (MAs) that took part. The report offers insights into a number of key areas of talent development, namely talent identification, training, playing opportunities, and the transition from youth to senior level. Each country report offers tailored guidance on how the MA could proceed, given their own particular national situation.
"Our immediate target is that every member association should reach its full potential to have the strongest possible national team. A long-term plan for talent development is essential for success." – Arsène Wenger, Chief of Global Football Development, FIFA
A full version of the report can be downloaded here.
The FIFA Football Stakeholders Committee (FSC) took further steps in the reform of the transfer system by endorsing key measures included in the third reform package. The FSC confirmed a number of general principles including International transfer of minors, squad sizes (loans), registration periods and transfer windows, financial regulations, and other regulatory matters. The FSC also discussed the proposed "Guidelines for the recognition of the competence of top-end coaches between confederations". The ultimate objective is to reach a mutual agreement between confederations for automatic cross-confederation recognition of coach licenses. (Source)
STADIUM DEVELOPMENT AND FAN ENGAGEMENT
Australian A-League club Sydney FC has unveiled plans for its Centre of Excellence which will be called Sky Park. The training base and community precinct called Sky Park will bring together all of the club's operations under one roof for the very first time. The Sky Blues A-League and Westfield W-League squads, the Sydney FC Academy and the club's administration team will all be based at Sky Park. Construction will begin on land at the club's current training base at Macquarie University Sports Fields and is due for completion in June next year. (Source)
The Football Business Headlines – May 10th, 2021
SPONSORSHIP AND PARTNERSHIP
The Italian Lega Serie A becomes the first football league to enter into a partnership with a cryptocurrency platform after they announced a partnership with cryptocurrency and NFT plat form Crypto.com. The long-term collaboration will kick off at the 2021 Italian Cup Final. A special NFT collection will be created that will include the official trophy, match highlights, and much more. (Source)
"Lega Serie A aims to broaden its target audience and continues the international growth path of the brand, always with an eye to the future and innovation. The Italian Cup Final will be an expression of these values ​​and will offer millions of fans around the world an exciting show not only on the pitch, but also before and after the match, thanks to the many commercial and marketing initiatives that we will organize with our partners. " – Luigi De Siervo, CEO, Lega Serie A 
Bundesliga International and Nordic Entertainment Group (NENT Group), have extended their media rights partnership until 2029 in nine European markets. Fans of Bundesliga in Sweden, Norway, Denmark, Finland, Iceland, Estonia, Latvia, Lithuania, and Poland can now follow Bundesliga and Bundesliga 2 matches on NENT Group's Viaplay streaming service. (Source)
Ed Sheeran is the new shirt sponsor of the men's and women's first-teams of English Football League One team Ipswich Town F.C. The music icon has agreed on an initial one-year deal with Blues. (Source)
ESPORTS
LaLiga North America and telecommunications conglomerate Verizon has announced that they will launch an always-on gaming platform for amateur gamers, featuring the EA Sports FIFA video game. The free online program called, LaLiga All-Star Gaming Challenge presented by Verizon, will be operated by Boom.TV.  The gaming program will be hosted by Olympian and former Colombia National Team Player Melissa Ortiz, Media Personality Mando Fresko, and FIFA Streamer RatedHugo. (Source)
"LaLiga North America and Verizon are harnessing the power of gaming to build a community of fans from all over the country who share a common love of FIFA." – Patrick Lowe, Head of Partnerships, LaLiga North America
WOMEN'S FOOTBALL
In an interview with French newspaper L'Équipe, FIFA President Gianni Infantino expressed his desire to revolutionize women's football with the launch of a new tournament that would be the equivalent of the men's Club World Cup where top club sides from Europe, the US, and the rest of the world face off against each other. (Source)
INNOVATIONS AND NEW TRENDS
FIFPro, the worldwide representative organization for professional footballers, and KPMG Football Benchmark have developed a platform that provides extensive data about the workload of professional footballers. The FIFPRO PWM platform addresses the need for aggregated player workload data by delivering information about the playing time, travel, and recovery periods of a sample of male and female footballers. (Source)
New Serie A champions Inter Milan have launched an official channel on video streaming platform Twitch. Inter's Twitch channel will be full of exclusive online content and, familiar Nerazzurri faces. (Source)
The English Premier League (EPL) has teamed up with Oracle that will see the American computer technology corporation become the official cloud provider of the league. Through this collaboration, the Premier League will increase the excitement surrounding every fixture through new in-match statistics that provide a deeper understanding of the live-action on the pitch. "Match Insights – Powered by Oracle Cloud" will present advanced player-performance data and statistics during the global broadcast coverage, and across the Premier League's social channels, starting with the 2021/22 season. (Source)
"We are always looking at new ways to bring the Premier League to life and enhance the analysis of the competition. Oracle is a global brand with a great track record of driving innovation, and we look forward to working together to bring new levels of engagement to fans around the world." – Richard Masters, Chief Executive, Premier League
LAW, STAKEHOLDER GOVERNANCE AND FINANCE
FIFA has launched a new FIFA Innovation Program that aims at dealing with innovative products that enter the market but are not ready for use in the game of football. The Program will bridge the gap between the stage of product idea and prototype and meeting a global standard. This will be done by generating knowledge and informing about potential changes to existing regulations or standards. A product that has proven its worth will be made eligible for certification under the FIFA Quality Programme. (Source)
The Football Business Headlines – May 3rd, 2021
SPONSORSHIP AND PARTNERSHIP
Chinese multinational electronics goods manufacturer Hisense has entered into a partnership with FIFA to become the Official Sponsor of the FIFA World Cup Qatar 2022. Hisense will be involved in a program that will range from on-site engagement opportunities and logo visibility across various platforms to global advertising campaigns. (Source)
Spanish club Valencia CF has entered into a partnership agreement with cyber protection company Acronis. Acronis will become the new Official Cyber Protection Partner of Valencia. As part of the partnership, the club will use Acronis Cyber Protect, an innovative solution used by elite sports teams around the world that integrates fast and reliable backup, AI-powered anti-malware and antivirus, and comprehensive endpoint management. (Source)
Artificial Intelligence-driven sports video technology WSC Sports and Liga Puerto Rico, the semi-professional soccer league part of the Puerto Rican Football Federation has announced a partnership to create AI-powered real-time highlights of the growing sport in Puerto Rico. WSC Sports will power highlight creation for both the men's and women's teams, which will be used to increase awareness and excitement for the league domestically and internationally. (Source)
ESPORTS
Italian club SSC Napoli has signed a long-term partnership agreement with Konami Digital Entertainment B.V. The agreement will mark an Official Football Videogame Partnership between the two entities from the 2021/22 season. From the 2022/23 football season, the eFootball PES series will be the only real-time football simulation game to include an authentic, fully licensed recreation of Napoli. In addition, KONAMI has announced that they will also become the Official Training Centre Partner for popular football club. From 1st July 2021, the facility will be officially named "SSC Napoli KONAMI Training Centre", featuring a brand-new gaming area for players and guests. (Source)
"With this close partnership between our two companies, we will further establish eFootball PES as the definitive video game series for Italian football. Showing strong belief in our long-term plan, we are humbled that Napoli chose to sign this exclusive agreement with KONAMI." – Naoki Morita, President, Konami Digital Entertainment B.V
"This partnership is the latest step in the wider drive towards internationalisation of the Napoli brand that the club has been working on in recent years." – Serena Salvione, Chief International Development Officer, SSC Napoli
The Dutch Eredivisie CV and the eighteen Eredivisie clubs have entered into a three-year agreement with First Touch Games, a global game developer. The eighteen Eredivisie clubs will debut on the new version of the mobile football game Score! Hero 2. (Source)
WOMEN'S