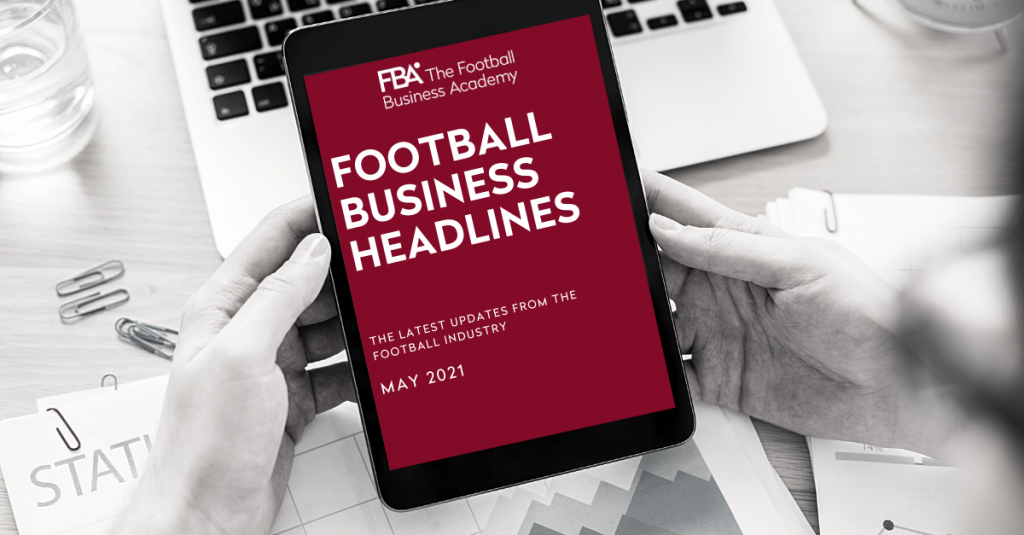 Football Business Headlines – May 2021
The Football Business Headlines – May 3rd, 2021
SPONSORSHIP AND PARTNERSHIP
Chinese multinational electronics goods manufacturer Hisense has entered into a partnership with FIFA to become the Official Sponsor of the FIFA World Cup Qatar 2022. Hisense will be involved in a program that will range from on-site engagement opportunities and logo visibility across various platforms to global advertising campaigns. (Source)
Spanish club Valencia CF has entered into a partnership agreement with cyber protection company Acronis. Acronis will become the new Official Cyber Protection Partner of Valencia. As part of the partnership, the club will use Acronis Cyber Protect, an innovative solution used by elite sports teams around the world that integrates fast and reliable backup, AI-powered anti-malware and antivirus, and comprehensive endpoint management. (Source)
Artificial Intelligence-driven sports video technology WSC Sports and Liga Puerto Rico, the semi-professional soccer league part of the Puerto Rican Football Federation has announced a partnership to create AI-powered real-time highlights of the growing sport in Puerto Rico. WSC Sports will power highlight creation for both the men's and women's teams, which will be used to increase awareness and excitement for the league domestically and internationally. (Source)
ESPORTS
Italian club SSC Napoli has signed a long-term partnership agreement with Konami Digital Entertainment B.V. The agreement will mark an Official Football Videogame Partnership between the two entities from the 2021/22 season. From the 2022/23 football season, the eFootball PES series will be the only real-time football simulation game to include an authentic, fully licensed recreation of Napoli. In addition, KONAMI has announced that they will also become the Official Training Centre Partner for popular football club. From 1st July 2021, the facility will be officially named "SSC Napoli KONAMI Training Centre", featuring a brand-new gaming area for players and guests. (Source)
"With this close partnership between our two companies, we will further establish eFootball PES as the definitive video game series for Italian football. Showing strong belief in our long-term plan, we are humbled that Napoli chose to sign this exclusive agreement with KONAMI." – Naoki Morita, President, Konami Digital Entertainment B.V
"This partnership is the latest step in the wider drive towards internationalisation of the Napoli brand that the club has been working on in recent years." – Serena Salvione, Chief International Development Officer, SSC Napoli
The Dutch Eredivisie CV and the eighteen Eredivisie clubs have entered into a three-year agreement with First Touch Games, a global game developer. The eighteen Eredivisie clubs will debut on the new version of the mobile football game Score! Hero 2. (Source)
WOMEN'S FOOTBALL
The Football Business Academy partner Iterpro has signed a multi-year partnership agreement with Worcester City Women FC. Iterpro will be recognised as the Official Technical Supplier of Worcester City Women and the company will provide all three women's teams – First Team, Development Team and U18 Team – with its software solutions in order to develop a strategic digital ecosystem that will allow the club to integrate and centralise data and insights that are crucial for the management of players' performance and health. (Source)
"We're committed to providing all our players with everything they need to improve and develop themselves and this partnership will help us make data-informed decisions to do just that. We also recognise the need for more research into female athletes and their performance and we will work with Iterpro to help fill this knowledge gap." – Nicole Allison, Executive Director of Worcester City Women FC
INNOVATIONS AND NEW TRENDS
LaLiga club Levante UD has reached an agreement with the fintech blockchain company Chiliz to launch its Fan Token ($ LEV) through the fan engagement platform Socios.com. Through this initiative, Levante fans now will now have access to a wide range of advantages such as the right to participate in certain club decisions through binding votes. Socios.com is a partner of The Football Business Academy. (Source)
"We welcome a historic club. Through Fan Tokens we are transforming what it means to be a soccer fan, creating a new class of fan with the right to participate in the club's decision-making, to choose to get exclusive gifts and to access forums, chats and games." – Alexandre Dreyfus, CEO of Socios.com 
LAW, STAKEHOLDER GOVERNANCE AND FINANCE
The UEFA Executive Committee approved a new model for the UEFA Women's Champions League that will be introduced for the 2021/22 season. The revamped model will see the competition redistribute €24 million to women's football across Europe – more than four times greater than the current figure. The new financial distribution model will also draw on the first-ever cross-subsidy from UEFA men's club competitions to support the women's game and UEFA investment. UEFA has also committed to redistributing 23% of the total €24 million available via 'solidarity payments' to non-participating clubs in each of the European top domestic leagues represented in the competition and these payments must be reinvested in the development of women's club football.
"The development of women's football should not be driven by short-term gain but a long-term vision. Thanks to the solidarity payments at the heart of this project and the increased rewards, every last Euro generated by the Women's Champions League and even more will go back into the women's game." – Aleksander Čeferin, President, UEFA
About The Football Business Academy Master Degree in Football Business
The Football Business Academy is a Swiss-based high level international educational institution whose goal is to professionalize the management of the football industry and facilitate the insertion of qualified professionals and future leaders in the game. Its flagship program, a Professional Master in Football Business, was codeveloped with international football industry experts from around the world around one foremost objective: to provide Candidates with all the necessary tools and an optimal learning environment in order to succeed in this passionate and dynamic industry.