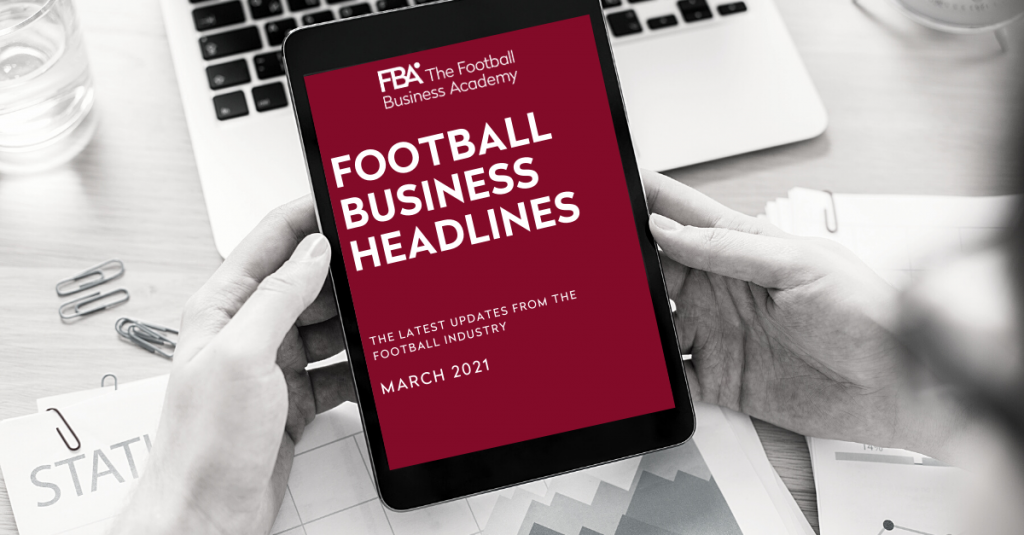 Football Business Headlines – March 2021
The Football Business Headlines – March 29th, 2021
SPONSORSHIP AND PARTNERSHIP
The Football Business Academy partner Olympique Lyonnais has extended its partnership with Vietnamese Ho Chi Minh City Football Federation until 2023. The collaboration which initially began in 2016 aims to support the authorities of Ho Chi Minh City in the development of a program that will train the next generation of professional football players in Vietnam. (Source)
"This cooperation fully illustrates OL's desire to commit internationally through a different model based on the transmission and construction of structuring and sustainable football projects." – Jean-Michel Aulas, President, Olympique Lyonnais
The governing body for football in Canada, Canada Soccer and the Canadian Premier League (CPL) have extended their partnership with Allstate Insurance Company of Canada (Allstate Canada). Allstate Canada is will also become the official property and automotive insurance partner for all eight teams under the CPL. (Source)
Just Eat Takeaway.com and UEFA have announced a landmark deal that will see the online food delivery platform become a partner of 11 different UEFA competitions including the UEFA Champions League, UEFA Europa League, and the newly created UEFA Europa Conference League. Just Eat Takeaway.com has also signed an agreement to become the partner of UEFA Women's Football. Just Eat Takeaway.com's four-year partnership to support women's football across all age groups will run through to mid-2025 and the company will also partner with UEFA's Together #WePlayStrong program, which is aimed at encouraging more girls and women to play football. (Source)
English Championship side Norwich City FC has signed a new primary club partnership with AMA Waste Management from the 2021-22 season. AMA Waste will work together with the Canaries to deliver the sustainability message of the club as the club continues to operate in an environmentally friendly manner. (Source)
ESPORTS
The eDivisie, the FIFA21 sports competition of the Dutch Eredivisie, will be renamed as the KPN eDivisie. The two-and-a-half-year deal will see telecom firm KPN become the Official Naming Partner of the eDivisie. The KPN eDivisie is organized by the Eredivisie CV in collaboration with DreamHack Sports Games. (Source)
Paris Saint-Germain and Brazilian superstar Neymar Jr. will become the first playable athlete on the Battle Royale game Fortnite. As part of the game's season six launch 'Primal', players in the game will be able to dress as Neymar while they compete in the winner-takes-all Battle Royale. Neymar's introduction will mark the first time in the game's history where an athlete has been fully drawn digitally. (Source)
WOMEN'S FOOTBALL
Australian A-League side Western Sydney Wanderers FC has announced the Future Wander Women Program. The program aimed at finding and developing the stars of tomorrow is supported by the Wanderers Foundation and club partners ABC Radio Sydney, Intermain and Western Sydney University. (Source)
The Football Association of England (FA) has announced a landmark domestic TV rights deal with Sky Sports and BBC for the broadcast rights to the Barclays FA Women's Super League. The game changing multi-million-pound agreement with Sky Sports will see the broadcaster show the top tier of women's football for the first time and the organisation has the right to show up to 44 matches. The BBC have also made a commitment to showcase the league to even more viewers by showcasing 22 live games per season. The revenue from broadcast will be distributed to the clubs and a proportion of it will also go to the FA Women's Championship to aid its development. (Source)
"Visibility and investment are such key factors in growing any women's sport, and we are delighted that Sky Sports and the BBC have made a commitment to broadcast more live women's football than we have ever seen before, while signifying its true value." – Kelly Simmons, Director of the women's professional game, The FA
INNOVATIONS AND NEW TRENDS
Serie A giants Juventus is the first European football club to unveil an Official Online Store on Chinese e-commerce platform DEWU. The initiative marks the first step of the club's e-commerce strategy in China. DEWU is a unique, trend-setting online shopping fashion platform where young consumers account for more than 80% of its total users. (Source)
"Juventus has the ambition to continuously connect with a global audience through products, services and content. Especially in China, the online shopping experience is a strong part of the digital brand experience, so offering this opportunity to our Chinese fans is a natural step in the development of our brand in this part of the world." – Federico Palomba, Managing Director APAC, Juventus
Chelsea Football Club is offering free advertising spaces across all its channels to support small businesses in London. This advertising includes the business's logo on halftime & fulltime matchday posts and a branded Instagram story. Through this initiative, small companies in London will gain significant exposure via this valuable advertising space that is usually only available to sponsorship partners or businesses buying one of the digital collaborations of the Premier League club. (Source)
LAW, STAKEHOLDER GOVERNANCE AND FINANCE
FC Bayern Munich and Canada Men's National Soccer team player Alphonso Davies has been appointed as a Global Goodwill Ambassador of the United Nations High Commissioner for Refugees (UNHCR). In his new role as UNHCR Global Goodwill Ambassador, Davies hopes to use the power of sport to enable a better future for refugees. (Source)
Global sports streaming platform DAZN has acquired the rights to broadcast all of Serie A in Italy from 2021-2024 and will become the new primary broadcaster of the Italian competition. The agreement which is one of the largest sports streaming deals in history and a tipping point in the migration of sports consumption from linear pay TV to OTT will see DAZN broadcast 266 Serie A exclusive matches and 114 co-exclusive matches or seven out of 10 exclusive matches per match week as well as three co-exclusive matches. In addition to this, broadcasting network CBS will be the new home of Italian soccer in the US from next season after beating ESPN to the rights for Serie A and the Coppa Italia. (Source)
"DAZN was founded with a vision for premium sports to be more accessible, and this agreement will deliver on that whilst continuing to drive innovation and improve the fan experience." – James Rushton, Co-CEO, DAZN Group
The German Football Association (DFB), Bundesliga club Borussia Dortmund and Premier League club Tottenham Hotspur have joined football media platform OneFootball as shareholders. The newly announced shareholders will also enter strategic content partnerships to bring football fans around the world closer to their organizations, through greater levels of original and exclusive editorial news, personalised and curated real-time content. 
The Football Business Headlines – March 22nd, 2021
SPONSORSHIP AND PARTNERSHIP
The Asian Football Confederation (AFC) has announced TV Start as their new media partner in Russia and CIS territories including Ukraine, Latvia, Estonia, and Georgia. AFC's major competitions will be broadcasted for the first time in these regions. The partnership agreement includes the rights to broadcast AFC club and national team competitions from 2021 to 2024. (Source)
English Premier League heavyweights Manchester United has signed a five-year agreement with technology enterprise TeamViewer as its principal shirt partner from the 2021/2022 season onwards. TeamViewer will enable Manchester United to bring their fans closer to the club by adapting new ground-breaking AR solutions and remote access to Old Trafford. (Source)
" We are looking forward to working with TeamViewer to bring to life our vision for a partnership built on smarter ways of connecting people and businesses." – Richard Arnold, Managing Director, Manchester United
The South American Football Confederation (CONMEBOL) has reached an agreement with online payment gateway platform PayRetailers to become the Official Sponsor of the CONMEBOL Sudamericana in the area of services or payment methods. The two-year agreement runs until December 2022. Furthermore, the CONMEBOL Sudamericana will have a new format starting this season and the amount that will be distributed through the different phases of the tournament has seen an increase of 25% from the previous year. (Source)
Digital payments solution Skrill will become an Official Partner of English Premier League club Leeds United. Skrill branding will be prominently displayed around Elland Road throughout all of Leeds's home matches via LED advertising around the stadium and Skrill will work closely with the club on a range of exclusive content campaigns, providing fans with additional entertainment and access to players. (Source)
The Football Business Academy (FBA) partner SL Benfica has signed an exclusive commercial partnership with WME Sports who will lead the search for the naming rights partner of the Portuguese club's stadium, 'Estadio do Sport Lisboa e Benfica'. WME Sports will also represent the Benfica Youth Academy and provide valuation, data and insights. (Source)
"This is part of our strategy to continue to position Benfica as a truly international club with a global reach, ensuring that we maximise our brand potential."  – Domingos Soares de Oliveira, CEO, Benfica
ESPORTS
Domestic connectivity and smart home company D-Link has announced a partnership with the esports team of Italian Serie A club Udinese Calcio. The collaboration will see D-Link become the main sponsor of the team and the rebranding of the esports team as Udinese eSports D-Link. The auditorium where matches are played at the Dacia Arena in Udine will also become known as the D-Link Gaming Room. (Source)
New Zealand Football has confirmed that they will be forming an eFootball eNational team to compete in the FIFAe Nations Series. To select the team, New Zealand Football, in association with 'LetsPlay.Live', will be holding a qualifying tournament, the NZF eTrophy 2021. (Source)
WOMEN'S FOOTBALL
LaLiga has renewed its collaboration agreement with the West Asian Football Federation (WAFF) with to foster the sustainable growth of football in Spain and West Asia. The renewed MOU focuses on developing the women's game with both entities already working on several projects and these projects will help to develop women's football together with the federations that are part of WAFF. (Source)
" In LaLiga, we have a firm commitment to supporting the development of women's football not only in Spain, but also internationally, as evidenced by agreements just like this one." – Maite Ventura, Managing Director MENA, LaLiga
INNOVATIONS AND NEW TRENDS
English Premier League leaders Manchester City has launched the $CITY Fan Token on Socios.com, a partner of The Football Business Academy. The new $CITY fan tokens will enable the club's fans to access VIP rewards, club promotions, AR-enabled features, and voting rights in club polls on Socios.com. (Source)
"Socios.com and $CITY Fan Tokens will be hugely complementary to City's global approach, providing fans around the world with unprecedented engagement opportunities, as well as unique digital, and – once restrictions are lifted – real-life rewards and experiences." – Alexandre Dreyfus, CEO, Socios.com
The Brazilian Football Confederation (CBF) and digital platform OneFootball have teamed up in a global partnership to distribute entity's original content to fans around the world. All editorial content published on the CBF website, news from the Brazilian Men's, Women's, and Base Teams, statistics and live results will be available on the OneFootball application and website. (Source)
LAW, STAKEHOLDER GOVERNANCE AND FINANCE
In collaboration with the United Nations Office on Drugs and Crime (UNODC), FIFA has launched a Global Integrity Program aimed at providing all its member associations with the knowledge and resources to fight and prevent match manipulation. The new program is organized regionally per confederation and includes a series of three-module virtual workshops. FIFA has also announced today the launching of a FIFA Integrity Officers Community Platform, an online platform dedicated exclusively to integrity officers across all member associations and confederations worldwide.  (Source)
Phoenix 2021 Limited, a UK-based company-owned by Bahraini businessman, Mr. Abdulrahman Al-Jasmi will become the new owners of English Football League One club Wigan Athletic, subject to the approval of the English Football League (EFL) board. The club had been in administration since July 2020. (Source)
The top-flight clubs from the Belgian Pro League have voted unanimously to support the proposed merger with the Dutch Eredivisie League. The format of the proposed 'BeNeLeague' is yet to be revealed, however, reports have suggested an 18-team structure. (Source)
The Football Business Headlines – March 8th, 2021
SPONSORSHIP AND PARTNERSHIP
LaLiga giants Real Madrid has agreed on a partnership with food company 'Meatless Farm' with the aim of promoting a more sustainable education and eating habits around the world. Both organizations will work to raise awareness in society about the importance of reducing meat consumption and promote a cultural change for health and well-being reasons.  (Source)
American Major League Soccer (MLS) has agreed to a partnership with sports and entertainment technology provider Deltatre making Deltatre the League's web technology provider. MLS and Deltatre will work on a series of digital products for both the league and the clubs from MLS. (Source)
"Deltatre shares our commitment to implementing leading technology that enhances and evolves the fan experience." – Chris Schlosser, SVP of Media, MLS
Global sports events, media, and marketing provider Infront has prolonged its partnership with the English Premier League (EPL) for free-to-air rights (FTA) of the English Premier League (EPL) across the Sub-Saharan African region until the end of the 2024/25 season. The project will be fully managed by Infront's Africa division based in Paris. (Source)
ESPORTS
Wolverhampton Wanderers have become the first Premier League esports team to enter the Call of Duty Mobile (CODM) China Masters. Call of Duty Mobile is a multiplayer online first-person shooting game. Wolves Esports team's portfolio of games now includes FIFA 21, FIFA Online 4, Identity V, Rocket League, and CODM. (Source)
WOMEN'S FOOTBALL
West Ham United, along with five sports-based clubs from London and Essex, have formed an exciting collaboration called Women's Elite Sports Partnership. The collaboration aims to create a unique and powerful opportunity for women's sports clubs to collectively work together to grow and sustain the development of women's sport in the UK. The five clubs that have teamed up are West Ham United Women, London Pulse Netball Club, Essex Rebels Basketball Club, London Lions, and Sunrisers women's cricket along with partners Essex Cricket and Middlesex Cricket. The clubs aim to support one another in three main areas: engagement, performance, and commercial activity. (Source)
"The collaboration is a great opportunity for us to help each other grow and in turn, we hope that the fans of each team will support us all on this journey. Over time, we hope to welcome even more elite teams across England, giving everyone the same unique opportunity to work collaboratively together." – Jack Sullivan, Managing Director of West Ham United
Austrian professional team LASK has started a department for girls' and women's football. The women's team will be identified under the single banner LASK and no differentiation is intended to be made between the men's and women's teams. (Source)
INNOVATIONS AND NEW TRENDS
The Football Business Academy (FBA) partner Sport Lisboa e Benfica (Benfica) has announced an agreement with Horizm, the digital inventory management platform that is also a partner of the FBA. The deal will see Benfica use Horizm's real-time digital-first solution to unlock new revenues and improve their interaction with their social media fans. (Source)
"At SL Benfica, we believe innovation is vital to ensuring we maintain our tradition of success on and off the pitch. Our approach to digital is also defined by this – by embracing innovative, AI-driven solutions like Horizm, we can improve the way we serve our millions of fans around the world on social media, and the ensure we maximize the revenue opportunities each channel presents" – Miguel Bento, CCMO, Benfica
"It's a great honor to be working with Benfica; to be collaborating with such an innovative and forward-thinking club is a big endorsement for what we do. We look forward to growing with them and helping them improve the commercial returns on their digital inventory" – Luis Viveiros, Head of Strategy, Horizm
LAW, STAKEHOLDER GOVERNANCE AND FINANCE
The DFL Deutsche Fußball Liga GmbH has released their 2021 Economic Report. The report presents the cumulative key economic indicators for the Bundesliga and Bundesliga 2 for the 2019-20 season. During the 2019-20 season, the Bundesliga clubs generated combined revenue of €3.8 billion (representing a drop of 5.4 percent from the previous season) and Bundesliga 2 clubs generated total revenue of €726 million (a drop of 7.2 percent from the previous year). (Source)
"Over the past 20 years, the Bundesliga and Bundesliga 2 have established economic foundations on which the two leagues can build their future development. However, it is clear that the massive ramifications of the pandemic will require all clubs to continue to act with financial discipline and foresight." – Christian Seifert, Speaker of the Executive Committee of the DFL
LaLiga has renewed its collaboration agreement with the leading football league in Colombia, DIMAYOR. The new agreement will run until 2023 and DIMAYOR will work closely with LaLiga on the creation and implementation of its own system of economic control. The strengthened collaboration will intensify the working relationship between the two leagues and begin more direct collaborations that will allow DIMAYOR to offer better technical assistance to its members. (Source)
STADIUM DEVELOPMENT & FAN ENGAGEMENT
The FBA partner Brighton and Hove Albion has received the green light from Brighton & Hove City Council to increase the capacity of the Amex stadium to a total capacity of 32,500. The latest Amex stadium expansion plans include permission being granted for an exciting new external fan zone area, including kiosks, external toilets, and a giant screen on Station Approach. (Source)
The Football Business Headlines – March 8th, 2021
SPONSORSHIP AND PARTNERSHIP
Australian A-League club Sydney FC has signed a two-year partnership with Rhino Football to become the Official Community Support Partner of the club. Rhino, a brand that specializes in creating new products that improve player performance, will work closely with Sydney FC community team to in creating custom-made footballs and specialist equipment. (Source)
"Community engagement is a cornerstone of Sydney FC and of our future development, and we are grateful to have a successful brand like Rhino come on board," – Danny Townsend, CEO, Sydney FC
Greek club PAOK FC has teamed up with digital media company Ganassa to penetrate the Japanese market by becoming the club's Official Partner in Japan. Ganassa will promote PAOK FC in the Japanese market through a series of activities and as a start, the club has created a Twitter account in Japanese. The club is also planning the opening of an e-shop in Japan in the future. (Source)
Ligue 1 leader LOSC Lille and New Balance have announced an extension of their agreement which will see the American sports apparel brand continue as the kit supplier of the French club. The new partnership will see New Balance design and produce all of the match and training outfits for all LOSC teams, from pros to training, including women and also a wider range of seasonal lifestyle products. (Source)
ESPORTS
The All India Football Federation (AIFF) has announced the first-ever AIFF eFootball Challenge, a first-of-its-kind tournament that will see top gamers in India compete with each other. The tournament will decide the representatives from India who will be part of the eNational Squad and compete at the FIFA eNations Series 2021. (Source)
Leading architectural design firm Populous unveiled plans of a 7000-seater multi-purpose arena that will be located in Toronto designed to host concerts, plays, and esports competitions. The facility plans to host 200+ events a year, driven primarily by premium music and entertainment bookings. It will also serve to attract major city-wide conventions, corporate events, and product launches, awards shows, and naturally, a full slate of esports events increasing over time. (Source)
WOMEN'S FOOTBALL
The South American Football Confederation (CONMEBOL) in conjunction with the United Nations Organization for Women organized digital sessions on female leadership and the generation of equality in sport for the 16 participating teams of the CONMEBOL Libertadores Femenina 2020. The sessions were aimed at promoting women's rights, establishing empowerment, and improving the conditions of South American women's sports to achieve an equal future. (Source)
The National Women's Soccer League (NWSL) expansion team Angel City FC (ACFC) has announced consumer footwear brand Birdies as the team's founding sleeve sponsor. The Birdies' logo will be positioned on the right shoulder of the official kit and will appear on both home and away jerseys. An ACFC X Birdies shoe collection will be released in Spring 2022 and ACFC and Birdies will collaborate to re-allocate 10% of the value of their sponsorship to develop a mentorship program for young girls across Los Angeles. (Source)
"This partnership is so much bigger than just the Birdies logo on the kit, as it represents two mission-driven, female-led companies coming together to inspire and lift up young women to help them live their lives with passion and purpose" – Bianca Gates, CEO, Birdies
The Confederation of African Football (CAF) has opened the bidding process for the hosting rights of the inaugural Total CAF Women's Champions League 2021 which will be organized from October to December. National teams interested in hosting the tournament are required to submit their bidding files containing two stadiums, four training facilities (at least), accommodation plans that can host eight teams, and an official guarantee from the government. (Source)
INNOVATIONS AND NEW TRENDS
Automated sports production global leader Pixellot in collaboration with the Barca Innovation Hub (BIHUB) has launched the 'Pixellot Air', a new portable camera that can be used at any football ground or sports center to automatically record games and training sessions and obtain detailed technical data and information about the activities being done. The device is a lightweight solution that consists of a camera device that can record more than 12 hours of play and functions automatically. The camera will be available for the 44 Barça Academies around the world to record all of their sporting activities and the detailed analyses will be useful for assessing how the Barça methodology is being applied. (Source)
"This agreement is a paradigmatic example of the kind of partnership we have at Barça Innovation Hub and which basically consists of connecting with an innovative ecosystem, with start-ups, and with big-tech companies, the main aim being to develop new products and services that will not only have an impact on the club but also on the sports industry and society as a whole." -Imanol Eguskiza, Innovation Manager, Barca Innovation Hub
LAW, STAKEHOLDER GOVERNANCE AND FINANCE
Belgian team Club Brugge is teeing up an IPO offering that will see the side join the small ranks of listed European football clubs. The IPO would consist of existing shares sold by Grizzly Sports NV, an entity controlled by club chairman Bart Verhaeghe, and CEO Vincent Mannaer along with Belgian businessman Jan Boone. Club Brugge will join European soccer teams including AFC Ajax, Borussia Dortmund, Juventus F.C., and Manchester United F.C. in having shares listed in the public markets. (Source)
The Football Association (FA) of England has joined the Scottish Football Association, The Football Association of Wales, The Irish Football Association, and Football Association of Ireland in welcoming the UK government's pledge to kick start a potential bid for the 2030 FIFA World Cup. (Source)
FIFA released the '2020 Global Competitive Balance Report' which details the competition structure in each of the 211 member associations of FIFA. The report gives a data-driven account of how the domestic competitions have developed over the recent years.
"Only by looking back can we know how to move forward, and this report provides a comprehensive overview of the recent history of domestic competitions across the globe, painting a picture of where competitiveness is thriving, on the right track or in need of stimulus." – Gianni Infantino, FIFA President
A full version of the report can be downloaded by clicking here.
The new phase of the Australian Government's sport for development program, 'Team Up', is launching in the Oceania region that will support 30 sport for development partnerships across Fiji, Nauru, Papua New Guinea, Samoa, Tonga, and Vanuatu. Programs are delivered in partnership by sporting and non-sporting organizations, with technical support from Team Up management in Australia and the program's regional office in Suva, Fiji, with the Oceania Football Confederation's (OFC) Just Play Programme among those being supported. (Source)
The Court of Justice of the European Union upheld an earlier ruling from its executive arm stating that Spanish football clubs Barcelona, Real Madrid, Athletic Bilbao, and Osasuna should pay back what is deemed to be in illegal state aid. This decision cancels the 2019 decision brought by the Luxembourg-based General Court that found the tax regime of the four clubs to be lawful. All Spanish professional football clubs were required to convert to sports public limited companies (SPLCs) by a law of 1990 in order to encourage more responsible management of their activities. However, Barcelona, Real, Athletic, and Osasuna chose an exemption option. (Source)
The Football Business Headlines – March 1st, 2021
SPONSORSHIP AND PARTNERSHIP
Premier League giants Manchester United has reached an agreement with OTT streaming service StarTimes that will see the English club's own platform MUTV be distributed to over 30 countries in sub-Saharan Africa. Nigeria, South Africa, Kenya, and Ghana are amongst the countries where the club's fans will now have access to MUTV 24 hours a day. (Source)
Major League Soccer (MLS) club LA Galaxy has inked a new partnership with tech company Honey. The deal brokered by AEG Global Partnerships will see the LA-based tech company become the official sleeve partner of the MLS club. Furthermore, custom content produced by both parties will highlight the functionality and benefits of Honey by featuring the passion and diversity of the LA Galaxy and its fanbase. (Source)
Reigning Bundesliga champions FC Bayern Munich has agreed on a multi-year regional partnership with tech wellness company Therabody. Therabody will become the German club's official Recovery Technology in North America, China, Germany, Austria, and Switzerland. FC Bayern's experts, coaches, and athletes will integrate Therabody's devices into their training, recovery, and injury prevention protocols and the club will also have access to Therabody University, Therabody's educational division. (