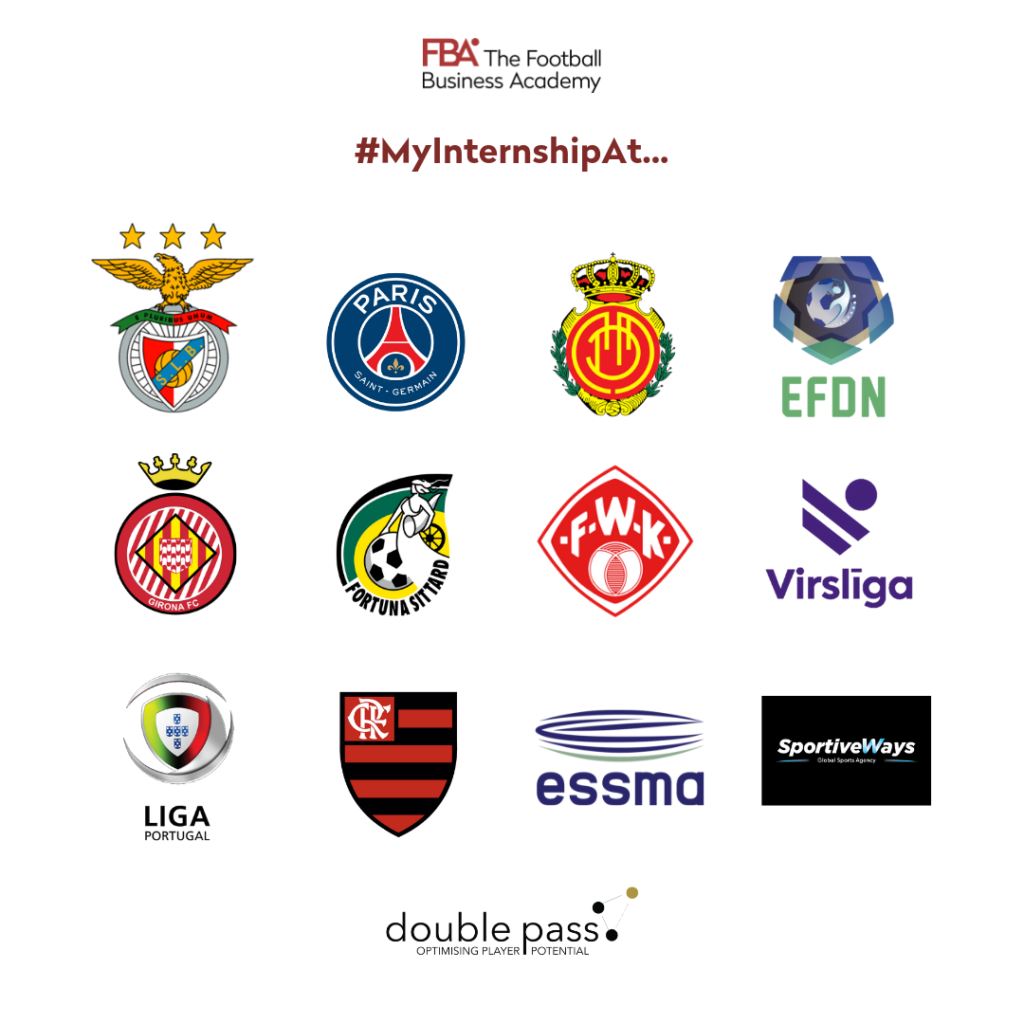 The FBA Latest News – July 2019
MY INTERNSHIP AT
Do you want to gain more insight into the Internship Module of our course? Then be sure to check out the first blog posts on the internship experiences of our 3rd Edition Candidates. In these posts they talk about their journey into the football industry, zooming in on their first-hand experience at organizations such as football clubs, football leagues, or agencies, sharing what they did and what they gained from it.
               Louis Gasparini                                  Micael Da Costa                              Gustavo Azevedo
                SportiveWays                              Sport Lisboa e Benfica                               Virslīga
SOCCEREX WEEK, A WORTHWHILE EXPERIENCE TO CHERISH MY WHOLE LIFE! 
"More importantly, Soccerex would present us with opportunities to network, connect and learn from the top leaders in the football industry, thus broadening our horizons and providing us different perspectives on how we consume football."
These are words shared by Ronit, our 4th Edition Candidate who recently went to Soccerex China in Hainan, one of the biggest football b2b events in the world!
A great opportunity to meet different leaders of the football industry and developed his network.
Have a look at his blog post in which shares everything about his experience there, as well as other valuable insights for future FBA Candidates!  Click here.
NEW PARTNERSHIP

We are delighted to have welcomed Galatasaray S.K. to The FBA Family last week.
Through this partnership, the Turkish club will empower its employees to enroll in The FBA's Professional Master in Football Business and increase their understanding of the global football industry.
Furthermore, we will collaborate closely with Galatasaray to identify relevant internship opportunities and strategic topics for Student Business Projects – two vital elements of the program through which FBA Candidates receive exceptional real-life experience and exposure to the industry whilst FBA Partners get to tap into a highly qualified, diverse and international talent pool to drive their strategic development.
Be sure to follow our development with Turkey's most successful football club!
Have a look at our official partnership announcement here.